Special Offers
Oberoi Hotels & Resorts invite you on a journey of discovery. Escape to destinations where spectacular landscapes, historical wonders, magnificent beaches and wild adventure promise to create memories for a lifetime.
Luxurious settings, impeccable service, international cuisine and pampering spa treatments come together to create the perfect holiday.
Unforgettable Holidays
'Unforgettable Holidays' offers a unique opportunity to relax and rejuvenate in some of the best hotels in the world. Tranquil surroundings, elegant interiors and beautifully landscaped gardens with reflection pools create a soothing and intimate ambience.
Offer starting from Indian Rupees 34,500 per night.
1st October, 2013 to 31st March, 2014
Oberoi Exotic Vacations
Enjoy a romantic evening overlooking the 400 year old City Palace at Udaipur. View the changing hues of the Taj Mahal, Agra from your room. Experience the ancient art of Yoga and meditation in tranquil surroundings. Stay at some of the World's Best Hotels on a memorable journey through India at an extraordinary value.
Complete your journey with a stopover at the recently opened, The Oberoi, Dubai. Overlooking the iconic Burj Khalifa, the hotel is minutes away from the downtown shopping malls and the night clubs which have made this a must visit destination for travellers around the world.
Suite Surprises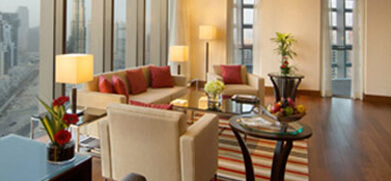 Expansive suites with unparalleled views, complimentary breakfast, internet, airport transfers in a limousine and much more.
Himalayan Vacations
Take a short break to Shimla this season and relax amidst picture perfect settings and cool Himalayan weather. Stay at The Oberoi Cecil, a grand heritage hotel located on the bustling Mall. Over a hundred years old, the hotel has been restored to its original grandeur with wooden floorings, spa with gymnasium and children's activity centre which makes the hotel an ideal place for a family getaway.
To experience complete tranquility, stay at Wildflower Hall, a fairytale luxury resort situated amongst pine and cedar forests at a height of 8,350 feet in Chharabra near Shimla, Himachal Pradesh. The restored former residence of Lord Kitchener, Wildflower Hall recreates the grand style of the colonial era. Exquisite views from the rooms, restaurants, outdoor Jacuzzi, a heated swimming pool and luxury spa pavilions make a holiday at Wildflower Hall an unforgettable experience.
Oberoi Family Vacations
Rejoice with your family while experiencing the gracious hospitality of Asia's best hotels. Our custom itineraries of India allow you to experience the romance of the Taj Mahal, the beauty and grandeur of our forts and palaces and the thrill of sighting a tiger in its natural habitat.
Exotic Honeymoons
From an engagement to a glorious honeymoon and anniversaries, treasure each occasion with a celebration at some of the finest hotels in the world. Oberoi hotels and resorts offer unique opportunities to savour splendid surroundings, luxurious interiors, personalised service and an ambience that is certain to create memorable moments for a lifetime.
Wellness in the Himalayas
India's Best Spa Resort Wildflower Hall, invites you to A Journey Of Wellness in the Himalayas with two programs to chose from. Enjoy the serenity of private Spa Suites and Spa Pavilions surrounded by soothing views of forests and majestic peaks as you are revitalised with therapies drawn from Ayurvedic, Asian and Western techniques. Unwind in the indoor swimming pool or spectacular outdoor jacuzzi while you take in the spectacle of the snowcapped Himalayas.
Offer starting from Indian Rupees 16,350 per night.
Wildflower Hall, Shimla in the Himalayas
1st October, 2013 to 31st March, 2014
Discover Backwaters of Kerala
The Oberoi Motor Vessel Vrinda is the perfect way to experience the picturesque backwaters of Kerala one of India's most enchanting holiday destinations. Discover its rich heritage and fascinating backwaters on a two night or a three night journey.
Offer starting from Indian Rupees 41,000 per night.
Himalayan Adventure
Get your adrenalin rushing with the Oberoi Himalayan Adventure offer which includes river rafting, mountain biking and a Sanctuary walking trail topped with a relaxing Spa therapy. There's no place better to soak the distinct Himalayan atmosphere than from the Wildflower Hall, a signature Oberoi resort with charming colonial heritage, located in the famous Indian mountain getaway - Shimla.


Offer starting from Indian Rupees 18,500 per night.
Wildflower Hall, Shimla in the Himalayas
15th September, 2013 to 31st March, 2014
Best of Mauritius and Dubai
Pristine beaches, clear blue waters and spectacular sunsets now come with an exceptional shopping experience, desert safaris and the stunning Burj Khalifa. Enjoy a complimentary night stay at the recently opened Oberoi hotel in Dubai when you take a holiday at The Oberoi, Mauritius. Quite simply, the best of both worlds!


Offer starting from Euro 400 per night.
1st October, 2013 to 25th April, 2014
Business Travel Plus
Oberoi Hotels offer "Business Travel Plus" designed to suit your business travel needs. Your special requests are now available with our compliments to make your business trip a truly comfortable and rewarding experience.

View Offer Details
Spa Retreats
Our spa packages aim to help achieve the ultimate harmony by drawing nourishment and balancing the flow between the physical, mental and spiritual realms of the individual for lasting well being.
Oberoi Spas have been exquisitely designed to envelop you in serenity, with soothing colours and aromas. The healing hands of therapists restore the natural balance of your body. Unwind and indulge yourself with beauty treatments evolved over the centuries.
Unforgettable Experience
The Oberoi 'Unforgettable Experience' is a unique getaway into a world of unparalleled luxury. Exotic islands, swaying palm trees, golden beaches, all that is enchanting about the Archipelago of Indonesia is waiting for you at The Oberoi, Bali and at The Oberoi, Lombok. Nature's colours come to life at The Oberoi, Sahl Hasheesh with white sand and aquamarine waters. In exotic Egypt, this exclusive luxury resort on the Red Sea Coast is situated on 48 acres with a private beach.
Oberoi Advantage
Oberoi Hotels and Resorts bring you an opportunity to get more from your travels. Stay across any Oberoi Hotel in Bangalore, Gurgaon, Mumbai and Dubai between 1st October, 2013 and 31st March, 2014 and receive:

One night with our compliments on completing 3 stays
or
Two nights with our compliments on completing 5 stays

View Details