Hotel update
Safety & Hygiene
✕
In light of the spread of COVID19, our hotel is currently not accepting new reservations for stays until 15th November, 2021.
We have had a preparedness and response plan in place at the hotel, in line with the guidelines of the World Health Organization. As soon as the situation gets better, we will be happy to start receiving guests again.
✕
We continue to follow the highest standards of cleanliness and hygiene, and in keeping with World Health Organization guidelines, to mitigate the risks associated with the coronavirus.
Please click here to know more.

Travel
information.
The Oberoi, Bali is located on Seminyak beach, the most beautiful beach on the island, on the south west coast of Bali, Indonesia. The resort is 9 kilometers north from Bali's Ngurah Rai international Airport and 15 kilometers from Denpasar city, the capital of Bali province. The Oberoi Bali is set amidst fifteen acres of tranquil gardens, recreating a traditional village, the hotel reflects the romance, serenity and timeless beauty of the island.
Address
The Oberoi Beach Resort, Bali
The Oberoi Seminyak Beach Jalan Kayu Aya Denpasar - 80361 Bali, Indonesia
+62 361 73 0361, +91-11-23890606
reservations.tobi@oberoihotels.com
Distance.
Details
Several international airlines fly direct to Bali (DPS) from all major Asian and Australian cities. Some of the direct international flights into Bali are operated by Singapore Airlines, Thai Airways, Malaysia Airlines, Cathay Pacific, Qantas Airways and China Airlines.
Indonesian domestic airlines connect Bali to Indonesia's capital Jakarta on Java island and other international gateway cities such as Surabaya and Yogyakarta. Flying time from Surabaya is 35 minutes, from Yogyakarta is 1 hour 10 minutes, Jakarta is 1 hour 50 minutes and from Singapore is just 2 hours 15 minutes.
Daily flights from Mataram on Lombok island (flying time 25 minutes) and other islands of this sprawling Archipelago are also available.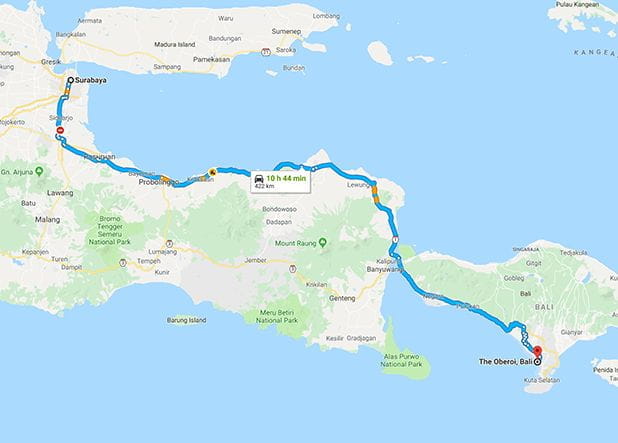 Details
Cruise ships dock at the deep sea port of Padang Bai which is 2.5 hours drive from the hotel. Private yacht can dock at Benoa harbour, 25 minutes by car from the hotel. Adventurous travelers can drive from Java via the vehicular ferry, which arrives at Gilimanuk, West Bali.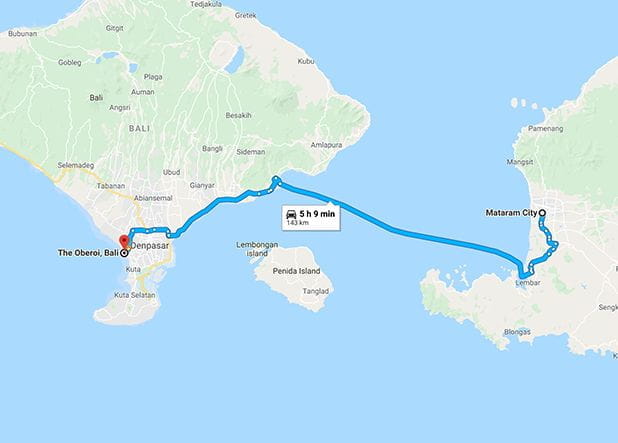 Weather in Bali.
Just eight degrees south of the equator, Bali is blessed with a humid, tropical climate all year round. It has two distinctive seasons: dry (May to September) and rainy (October to April).
Overview
| Seasons of year | Season time | Maximum temperature | Minimum temperature | Rainfall |
| --- | --- | --- | --- | --- |
| Annual | May to September | 82°F (28°C) | 79°F (26°C) | Nil |
| Monsoon | December to March | Nil | Nil | 270 mm |
Other travel information.
International visitors from the UK, most European countries, most Asian countries, the USA, Australia and New Zealand are given a visa free of charge upon entry, for tourism purposes for up to 30 days. If you wish to stay in Indonesia for longer than 30 days, you can purchase a Visa on Arrival that is valid for 30 days at a cost of USD 35 per person and it is extendable for a further 30 days.
Passports must be valid for at least six months from the date of departure from Indonesia and visitors must have a return or onward ticket. Upon arrival, visitors may also be asked to produce hotel reservation papers and proof of finance.
The unit of Indonesian currency is the Indonesian Rupiah (IDR). Visit for up to date information on Current Exchange Rates.
We would be happy to help with foreign currency exchange in Bali. Please ask the concierge upon arrival.
There are a number of international ATMs in Bali. International credit cards are also accepted.
Recommended clothing.
If you are travelling to Bali during the dry season, we recommend you wear loose clothing made from natural fabrics that will be comfortable in the humidity. During the rainy season, you may wish to prepare for the likelihood of getting caught in a downpour.
Language.
English is widely spoken across Indonesia. Staff at the airport, hotels, restaurants and shops will most often be fluent in English.
Bahasa Indonesia is the official and most widely spoken native language in Indonesia.
Customs allowances.
Visitors are permitted to carry bank notes of any currency with a value of less than IDR 100,000,000 (one hundred million Indonesian rupiah) into Indonesia. Values exceeding this must be declared to customs and may be subject to import duty.
Visit for up to date information on Current Exchange Rates.
Duty free allowances per person (over the age of 18) are as follows:
Alcohol: 1 litres
Cigarettes: 100 pieces
Cigars: 25 pieces
Tobacco: 100g
Visitors are allowed to carry cameras, video cameras, radio cassettes, binoculars, laptops or mobile phones, provided they:
Do not exceed the personal goods allowance that entitles visitors to carry items up to the value of USD 250 per person (or USD 1,000 for a family of four);
Will only be used for tourism purposes in Indonesia, and;
Will be carried out of the country upon departure.
Customs duty is leviable at variable rates, up to 40%, upon the value of dutiable goods in excess of allowances.
Goods subject to import duty, import-related taxes and excise;
Animals, fish and plants, including their derivative products;
Narcotics, psychotropic drugs, firearms, air guns, sharp weapons, ammunition, explosive materials;
Cinematographic movies, recorded video tapes, video laser discs, or pornographic material;
Bank notes of any currency, with a value of IDR 100,000,000 (one hundred million Indonesian rupiah) or more;
Commercial goods.