COVID-19 Advisory
Safety & Hygiene
✕
Guests should have received at least one dose of vaccine prior to entering Rajasthan as advised by the Government of Rajasthan. Also it is mandatory to carry the vaccination certificate.
In case no vaccination is done, it is mandatory to carry a negative RTPCR report. Same needs to be given at the time of arrival at the hotel.
✕
We continue to follow the highest standards of cleanliness and hygiene, and in keeping with World Health Organization guidelines, to mitigate the risks associated with the coronavirus.
Please click here to know more.

Rooms
& Suites.
Our rooms and suites reflect a thoughtful harmony of Mewar inspired motifs, elegant furnishings and modern technologies.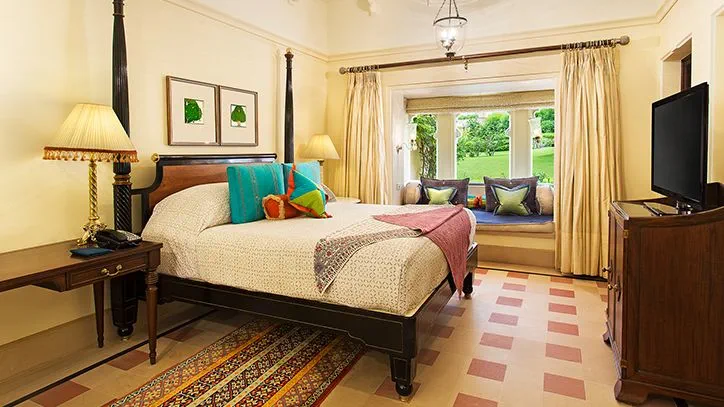 A premier experience of Oberoi hospitality.
Uninterrupted garden views are best enjoyed from the cushioned bay window seat in these stunning rooms. Decorated in a natural palette, with vibrant touches of colour and traditional Indian patterns, the spacious interiors include a king sized bed and a marble ensuite bathroom with views of a private sun dappled courtyard.
View

Gardens

Room Size

55.74 square metres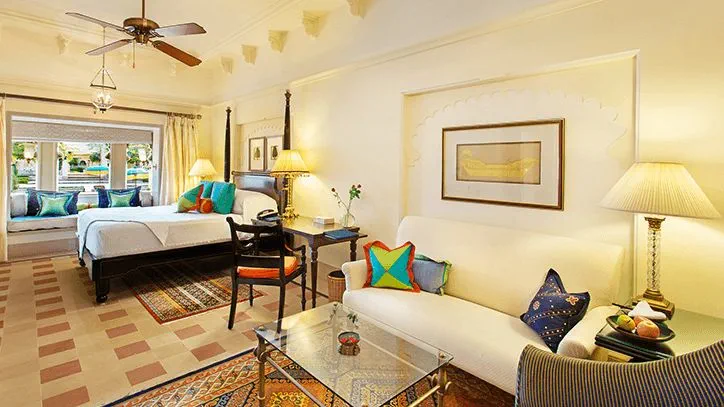 Matchless comfort with an authentic vibe.
These spacious rooms have been carefully designed for your utmost comfort, with a king size bed and a marble bathroom with private courtyard views. They feature hand printed Indian fabrics, and a colour palette that harmonises natural tones and Rajasthani vibrancy. But the highlight has to be the cushioned bay window seat with views of our main pool, Mewar style courtyard and lush green lawns.
View

Pool

Room Size

55.74 square metres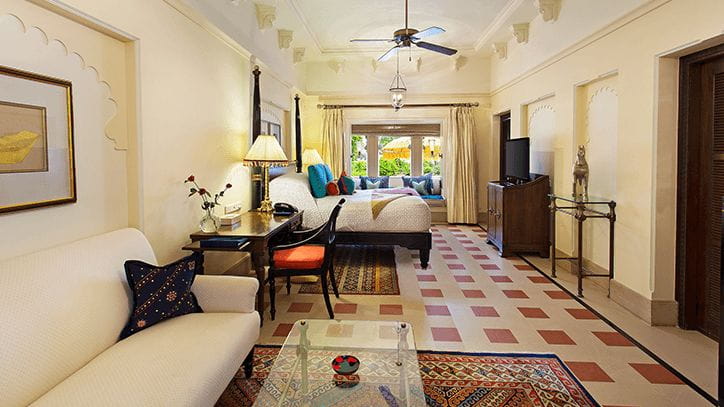 A pool experience beyond compare.
From the latched gate on your private terrace, you can slip into a breathtaking semi private pool with uninterrupted lake views. Or simply relax on a sun lounger. Inside your room, naturally lit interiors are enhanced with bursts of colour and traditional Indian fabrics. Furnishings include a two poster king size bed, a plush sofa and a wooden writing desk. The marble bathroom also offers lake views.
In accordance with the latest health advisory from the Government of Rajasthan, our semi private swimming pool will be closed until further notice. Please accept our sincerest apologies for any inconvenience.
View

Lake

Room Size

55.74 square metres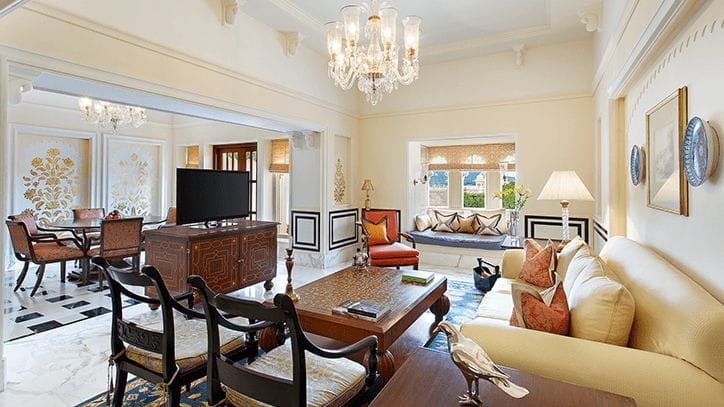 Your own private space to relax and unwind.
Enjoy garden views and exquisite luxury; from the elegant living room to the king size bedroom, ensuite bathroom, dining room, powder room and private courtyard. Outside, a private pool and al fresco dining space provide the perfect setting to relax and unwind.
Our crowning glory, especially for you.
With its gold domed ceilings, mirror mosaics and hand carved marble privacy screens, the Kohinoor Suite is a rarity. A master bedroom and twin bedroom, a spectacular dining room, living room and private pool occupy a tasteful 246.2 square metres. All the very latest technology, including three television sets, bring a touch of modernity to this true classic.