✕
COVID-19 Update
Safety & Hygiene
✕
Guests should have received full vaccination prior to entering Rajasthan as advised by the Government of Rajasthan. Also it is mandatory to carry the vaccination certificate.
✕
We continue to follow the highest standards of cleanliness and hygiene, and in keeping with World Health Organization guidelines, to mitigate the risks associated with the coronavirus.
Please click here to know more.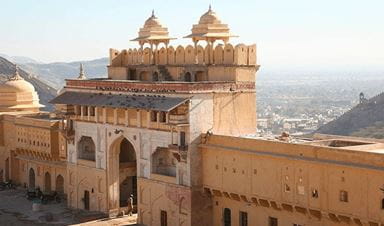 Built in 1734 by the King of Jaipur, Nahargarh Fort sits atop the Aravalli Ranges and is believed to have been built as a royal hunting lodge. The fort was connected to Jaigarh Fort by tremendous walls, and was part of a larger defence system meant to protect the city of Jaipur from attack. Towering high over the walled pink city below, Nahargarh Fort provides almost dizzying views over Jaipur. The origin of the name Nahargarh is debated.
Some say that the fort takes its name from Prince Nahar Singh Bhomia, whose spirit once haunted the fort and was pacified when a temple was built here in his honour. Indeed, the temple can still be seen here. Others say that Nahargarh meaning "abode of tigers" takes its name from the large cats that used to roam wild in this area. An interesting sight within the fort is the Diwan-I-Aam: an open enclosure where the King would meet with commoners who had braved the tiger inhabited hills to air their grievances before his majesty.
Distance from the hotel

23 kilometres

Driving time

50 minutes