Bespoke
A stitch in time
The new uniforms adorning the staff at The Oberoi, New Delhi are a reflection of The Oberoi Group's roots as well as its commitment to excellence
My journey in the fascinating world of fashion had a humble beginning in the bylanes of Delhi. I grew up in the city and my early years were steeped in its art and culture. My mother was a sitar player and while my father was a highly accomplished consulting engineer, his heart remained rooted in art, music and literature. He even managed to find time to play the flute! While we had several beloved haunts in the city that we would make regular family visits to, Sunday brunches at The Oberoi, New Delhi, remained one of our absolute favourites. Some of my other enduring memories include delightful dinners at Taipan, the Chinese restaurant at the hotel, and, of course, the view from the rooftop: absolutely breathtaking. When I was told all these years later that I would be designing the new uniforms for The Oberoi, New Delhi, therefore, it should come as no surprise that I could barely contain my excitement. It was like the culmination of all my fondest memories of childhood and felt like a big achievement, imbuing me with a sense of pride. Not least so because I would now have the opportunity of working with the champion of luxury hospitality in India, Mr PRS Oberoi!
"
The soul of a hotel lies in its people, and their appearance, confidence, motivation and performance are largely dependent on how they feel about themselves.
"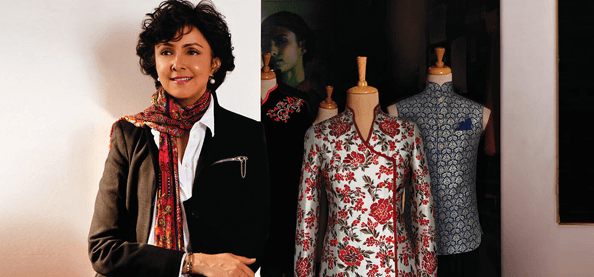 My team and I have been working with the hospitality and corporate sector for the last two decades. Since our first corporate design project in 1995, we have designed uniforms for over 150 hotels, hospitals, airports, international food chains and corporate houses. While these projects require as much passion and energy as my fashion label, the contrast between the two realms of design is truly vast. Designs for the ramp can be mad, eccentric, exquisite and delicate all at once, but designs for a hotel or corporate house must be practical, versatile, durable, cost-effective and universal for all skin tones, shapes and sizes. Also, each brand has its unique identity and philosophy, which must come across in its uniforms with an immediate visual connect. I believe that uniforms are the first point of guest contact for a hotel and the most important aspect of client interaction with its staff. The soul of a hotel lies in its people, and their appearance, confidence, motivation and performance are largely dependent on how they feel about themselves. If the staff is happy, content and well-groomed, they will convey this feeling of satisfaction to guests in every interaction. As such, uniforms are a big part of the 'feel-good' factor in any hotel. Along with the brand philosophy, they also convey hospitality standards, style, aesthetics, cultural and geographical influences on the brand and the essence of the particular property.
For The Oberoi, New Delhi, we began the process of creating the new uniforms for the hotel's renovated avatar with a concept briefing by Mr PRS Oberoi. He laid out before us his vision for the property, which stands as a significant part of New Delhi's history. His passion for the highest level of service and hospitality, emphasis on the minutest of details, concern for his guests' first impressions as well as the comfort and convenience of each staff member who would wear the new uniform, was truly heartwarming. Each stage of the process that followed - from principle concept design to fabric design and fibre content/yarn count specifications, silhouette design, print artwork and embroidery detailing, accessory co-ordination, grooming and makeup specifications, and complete prototype presentation on staff members as models - involved relentless brainstorming and deliberation. Mr Oberoi was a tremendous driving force through it all, and we made every presentation to him in his beautiful office, set amidst lush greenery with peacocks dropping in every once in a while. The entire exercise of designing looks for the new and refurbished property spanned over 18 months and innumerable meetings, each one serving as a learning experience as well as an opportunity for growth for me, on a personal level.
The inspiration behind the design of the uniform as it stands today was The Oberoi Group's rich Indian roots and its brand philosophy centered on luxury, excellence and the highest international standard of hospitality. From conceptualisation and complete design detailing to accessorising, prototyping and finally producing uniforms for the entire staff of the hotel was an extremely enriching experience. Now, every time I walk into The Oberoi, New Delhi, I feel a sense of pride in knowing that a piece of my heart resides in
it too.