Collectibles
Poetry in embellishment
The artistic traditions of mounted porcelain and enamelling lend a whimsical air to some of the most exquisite antique collectibles from 19th-century Europe
To the insatiable aesthete, the tapestry of European decorative arts is a fascinating tableau – each art form is a repository not only of the culture and aesthetic heritage of the West, but also delineates a larger artistic narrative in which influences and techniques from across the world are crucial characters. Two art forms among these – mounted porcelain and enamelling – can animate a collector's shelf with a whimsical aura as colours, figures and even detailed tableaus punctuate the opulence of gilt-bronze and gold.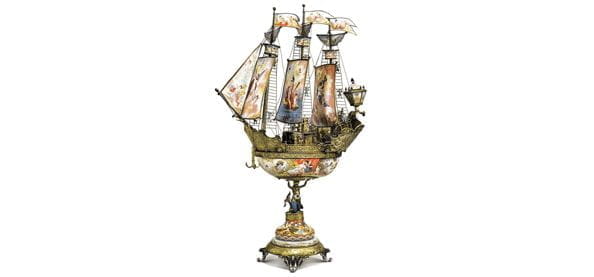 MOUNTED PORCELAIN
Mounted porcelain, or porcelain embellished with gilt-bronze, silver or gold mounts, traces its origins to the 16th and 17th centuries, when porcelain wares from China and Japan were first brought to Europe once trade with the two countries was opened up. As Europe developed its own porcelain manufacturing expertise in various countries – Meissen in Germany, Vienna in Austria and Sèvres in France, to name a few – various styles developed over the centuries, each uniquely reflective of its era and place of origin. The Meissen factory, for instance, was renowned for its original naturalistic productions of birds and animals in the mid-18th century and much of the Sèvres factory's output in the early 19th century reflected the Empire Style, a late Neoclassical style that thrived during the period of Napoleonic rule. For a collector looking to buy an antique mounted porcelain masterpiece, Christie's specialist Will Strafford advises that condition and rarity are important considerations.
"The value drops if the porcelain is damaged or restored, or if the gilt-bronze mounts are harshly re-gilt or are not original," he says and adds that while the pieces of highest value are mostly from the 17th and 18th centuries, the taste for mounted porcelain continued through the 19th and even into the 20th century. A pair of large gilt-bronze mounted famille rose porcelain cache pots were recently sold at an auction by Sotheby's for INR 8,86,386 and a pair of Louis XVI style gilt-bronze mounted Sèvres porcelain ground vases from Paris, circa 1885, for INR 6,44,645.
ENAMELLING
Noted Canadian ceramist and author Robin Hopper in his book, Making Marks: Discovering the Ceramic Surface, notes that the earliest examples of enamel decoration on metal include a gold ring from a Mycenaean tomb in Cypress from the 13th century BC, cloisonné from 5th century BC Greece and champlêvé from 1st century BC Britain. The terms 'cloisonné' and 'champlêvé' refer to techniques of separating and fusing enamel on to gold, fine silver or copper.
Cloisonné involves bent metal wires being used to make designs that are soldered to a metal base and inlaid with enamel, while in champlêvé, enamel is inlaid into etched pits or depressions in the metal of choice. Other techniques include plique-à-jour, developed in France and Italy around the 14th century and limoges, a technique of painting with enamel, hails from France in the same period.
At a recent auction by Sotheby's, an exquisite monumental Austrian gilt-metal and enamel nef from late 19th-century Vienna was sold for INR 40,29,031 and a pair of gilt-metal and enamel two-handled vases and covers from the late 19th century for INR 19,33,935.