Heritage
Gilt by a master
The works of 18th-century chaser-gilder Pierre Gouthiere stand testimony to the aesthetic opulence of 18th-century France
In some parts of the antiques world, Pierre Gouthière is considered one of the greatest French decorative artists of the 18th century. To most of the rest of us, he is barely known. This may change with 'Pierre Gouthière: Virtuoso Gilder at the French Court', a rare and sumptuous exhibition of more than 20 objects at the Frick Collection, New York.
"
The complexity builds in a kind of narrative and also gives Gouthière's work its intelligence and integrity.
"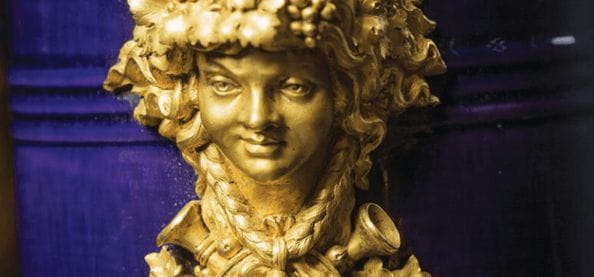 This show is a study in ultra-refinement in which art, craft and invention converge in a burnished glow. It introduces a man who took a minor art to new heights in the last decadent decades of the ancien régime. Charlotte Vignon, the Frick curator who organised the show, writes in the catalogue that it was a time when the so-called minor arts were more emblematic of elite society and its values than contemporary painting.
Neither a painter nor a sculptor, nor even a goldsmith, Gouthière (1732-1813) was a master chaser and gilder, a relatively modest job description. He made and often designed the cast-bronze elements used to decorate furniture, chimney pieces and valuable vessels in ceramics and stone. Chasing involved the delicate incising and detailing of the bronze before the gilt — an amalgam of gold powder and mercury was applied.
The ambitious and talented son of a master saddler in Bar-sur-Aube in the Champagne province, Gouthière arrived in Paris at an early age and began working under craftsmen who sharpened his skills and introduced him to important clients and connections. After the death of a gilder who had employed him, Gouthière advantageously married his widow.
He rose to become the most sought-after chaser-gilder of his time, one of the few whose name was listed with his works in auction catalogues. He flourished, especially from the late 1760s to the early 1780s, with patrons like Louis XV and Louis XVI and prominent members of their courts. It was a time when the French elite were commissioning — if not always paying for — lavish objects of luxury as if there were no tomorrow. And there wasn't: The French Revolution was just a few years off. The gilt decorations Gouthière provided for sundry status objects enhanced their beauty and also their light-reflecting capacity, always important before electricity. He fashioned the bases and capitals for ancient columns of exquisitely coloured and textured porphyry excavated in Rome; the foliate mounts for vases of granite or alabaster; and the bases, trim and other additions that made already breathtaking Chinese ceramics even more extraordinary. One example of this is a pair of celadon garden seats with gilt snakes coiling along their upper edges and bases that ingeniously incorporate the seats' lids, as well as three harpies.
Gouthière made all-gilt objects as well — most impressively, a pair of wall lamps featuring loose clutches of poppies that seem to encompass their life cycle, from buds to wilted blossoms. But generally, the gilt is most striking combined with stone or ceramic, a point underscored by a series of gaudy all-gilt firedogs — the small sculptures used to mask andirons — and especially by a pair of seated dromedaries made for Marie Antoinette's Cabinet Turc at Fontainebleau.
Gouthière was a keen observer of nature. He excelled at creating the wood or wax models of miniature myrtle leaves, an inches-high mermaid and a goat's head, all used in making moulds. His feats of chasing added veins to the backs of ivy leaves, elaborated hair textures and arrangements, rendered such details unique, as close looking reveals. He also imbued the human face and body with uncanny expressiveness and purpose.
Gouthière's mermaid, for example, does not simply adorn her porphyry ewer by passively assuming the form of a handle. She is a sentient being who grips the gilt-edged rim and stares into the ewer's depths like a priestess awaiting divination from the gods. As with all Gouthière's figures, she benefits from his adaptation of the matte gilding process to bronze — enabling many new subtleties, including the illusion of soft skin.
The master chaser-gilder exploited the enlivening contrasts of matte and reflective finishes throughout his work. The brighter areas function as a painter's highlights, creating the effect of light striking, differentiating the ridges on a goat's curling horns or picking out tiny laurel berries against dustier leaves. The latter occurs on an especially beautiful pair of lidded alabaster vases; the matte laurel branches — bent to form handles — are so true to life that they should rustle; they also have the appealing nonchalance of the poppies.
The contrasts in gilded surfaces slow down the eye, revealing illustrated lexicons of techniques, patterns, symbols and motifs. The complexity builds in a kind of narrative and also gives Gouthière's work its intelligence and integrity. Natural forms move from realistic to stylised to abstracted or from fully dimensional to relief to pierced fretwork.
These progressions are most richly at work in a blue turquin marble side table that is one of Gouthière's masterpieces and, having previously belonged to J. Pierpont Morgan, was acquired by Henry Clay Frick for his future museum in 1915.
Different decorative motifs proceed down the tapered legs, which resemble inverted obelisks. Strands of ivy spiral magically around two staff-like rods, called thyrsi, on the entablature, but the leaves also overlap as they would in nature. Their progress is bisected by a kind of living medallion: a pensive young face of unclear gender topped with ringlets, adorned with pearls and grapevines and framed in braids. It is one of the most beautiful sights in the show — and with a subtly planar structure, seems implicitly modern.
Gouthière's artistic prominence did not preclude financial trouble. The Duke of Aumont and the Duchess of Mazarin, two of his most important patrons, died in the early 1780s owing him a great deal of money. His position was weakened by real estate overreach: the purchase of a large plot of land in Paris, on which he started building a workshop and two dwellings using a frightening succession of loans. He was forced into foreclosure and, in 1787, to declare bankruptcy.
Considered in this light, Gouthière's gilded pieces are like portable follies built for pleasure and distraction by people who thought they had endless cash and privilege. A pair of Japanese incense burners on spindly tripods might almost be little pavilions for one of Antoine Watteau's fetes. The most impressive of firedogs suggest an elaborate gate to a private park. Its grand architectural scale is reinforced by two massive urns resplendent with clouds of smoke and flame. So, while this exemplary exhibition reveals a singular artistic achievement and works not just of stunning virtuosity but of genuine emotional gravity, it can also feel a bit like a chamber orchestra of Neros tuning up as Rome starts burning.