Collectibles
Adorn the mantel
From 18th-century ormolu clocks framed by candelabra to enamelled 19th-century timepieces, mantel clock garniture sets are a welcome addition to any living space
Even as cutting-edge smartwatches redefine the ways in which time is told in the modern world, a 19th-century gilt bronze and white marble mantel clock continues to tick on. Its enamel dial, signed 'Boursier Jne, Elve De Lepaute, A Paris', gleams pristine white against an exquisite sculpture of a lady reading a book. Tracing its origins to France in the 1860s, the clock is flanked on either side by two intricately carved six-light candelabra, each held aloft by a gilt putto. Placed together on the mantel, the garniture set lends an aura of tasteful opulence to a room like little else can. It is no wonder, then, that mantel clock garniture sets remain among the most sought-after antique collectibles even today.
MANTEL CLOCKS
"
Placed together on the mantel, the garniture set lends an aura of tasteful opulence to a room like little else can.
"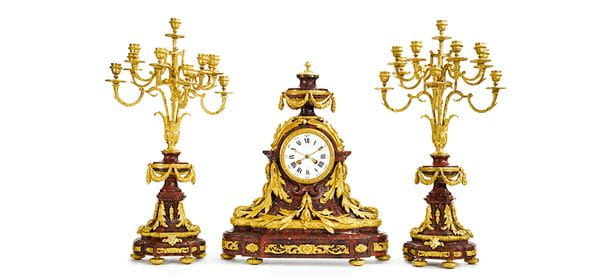 From ornate gilded clocks in the 17th century to porcelain-inset gilt bronze timepieces in the late 19th century, antique mantel clocks are often a study in mechanical ingenuity and also have a lot more to pique any collector's interest. An upcoming Sotheby's auction will feature a Louis XVI style gilt bronze three-piece clock garniture from the late 19th century, the design for which has been attributed to French bronzier François Vion. Clocks of similar make are said to have been particularly popular with the French royal family and their closest circle. Louis XVI, Marie Antoinette, Mesdames Victoire and Adélaïde, the Marquis de Sérent, and the Comte de Provence are all said to have owned at least a clock each of a similar design.
French mantel clocks often incorporate ormolu, a technique where high-carat gold is finely ground and applied to bronze. The outcome is a likeness of blazing gold, and an ormolu objet d'art can add a touch of grandeur to any space it is placed within, especially when accompanied by ormolu candelabra to match. This style is particularly characteristic of 18th-century France, although the 19th century seems to have carried on the tradition with a few aesthetic modifications that yield stunning masterpieces nonetheless. The decoration in mantel clocks across both centuries varies enormously, however, and the sculpted figures incorporated in many among them range from mythological characters to significant personages in French history.
Christie's specialist Celia Harvey notes that while collecting an antique mantel clock, it is also important to take note of the maker, whose name is often inscribed upon the dial. More often than not, a named maker adds value to a timepiece while simultaneously assuring quality and authenticity. And the place of manufacture holds significance too. In early French clocks, for instance, those made in Paris are said to be of higher quality. Noted 19th-century clockmakers such as Marti and Japy Freres are said to have mass-produced reliable movements to fit a variety of clocks and cases. The craftsmanship accompanying the mechanical finesse also determines how coveted an antique mantel clock is, and the bronzier is a significant aspect to be considered when buying one. French makers such as Vion and Deniere Frères display a level of craftsmanship that makes their timepieces highly valuable.
CANDELABRA
As part of mantel clock garniture sets, antique candelabra serve as an elegant frame to complement the brilliance of the timepiece at the centre of the composition. Meticulously carved by some of the finest craftsmen of their respective era, they are a welcome addition to your shelf as pieces of statement sculpture in themselves. An upcoming Sotheby's auction will feature a pair of exquisite gilt-bronze and cloisonné enamel six-light candelabra dating back to 19th-century Paris, which combine gilding and intricate enamel work to create a set of stunning masterpieces.
Christie's specialist Richard Nelson points out that while antique candleholders including chandeliers also work with electrical fittings, many collectors remount their objects of choice with real candles to emulate the lighting of the 18th and 19th centuries. The outcome is a soft glow that, emanating from the mantel on one side of a room, envelopes its entire expanse in an aura of warmth and subtle grandeur.