Lifestyle
Space, light and opulence
The Oberoi, Gurgaon offers a traveller more than just the opulence of a five-star hotel: it is a sanctuary of comfort, care and the very finest in modern hospitality and fine dining
If The Oberoi, New Delhi is well-established, gregarious and confident, her younger sister in Gurgaon is no less sophisticated. Age before beauty, they say – and The Oberoi, Gurgaon, is a stunner.
Once you know her, you'll want to get to know her better. Yes, she can be enigmatic at times – remember the Mona Lisa's smile? But she's no less attractive for that. On the contrary, The Oberoi, Gurgaon, is a one-off, a class-act, a true original in an urban jungle of faceless, chain hotels. Coming from the pulsating heart of New Delhi to the relative calm and still-green spaces of Gurugram, it takes a moment to unwind. That beautiful reflection pool which greets you on arrival is not swimmable (for swimming, there's a magnificent pool on the other side of the hotel), yet its purpose is more than ornamental.
Reflection is two things – first, what is actually reflected in the water, and second, the way still, limpid water invites you 'to reflect'. What The Oberoi, Gurgaon, asks of you, in short, is a change of pace. Enter the hotel's all-white, all bright, totally zen lobby for the first time, and all is calm and becalming. This is not to say the hotel is 'still'. Far from it. Its restaurants, bars, shops and public spaces positively hum. The Oberoi, Gurgaon also has the best-equipped business centre I've come across in India, open 24 hours, which is a no-brainer, of course, since business is done around the world 24x7.
"
What The Oberoi, Gurgaon asks of you, in short, is a change of pace. Enter the hotel's all-white, all bright, totally zen lobby for the first time, and all is calm and becalming.
"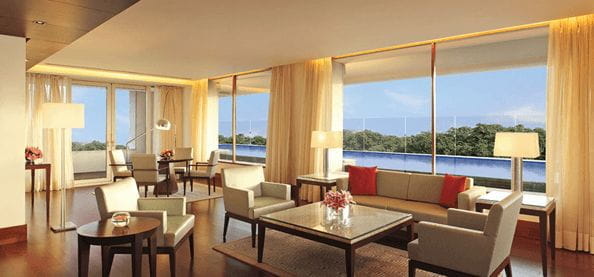 An open-all-hours business centre is not a luxury, it's an essential, but it does invite us to consider what currency that overused word 'luxury' still holds. For me, one of the very last luxuries in our overcrowded world is space, and this is something this remarkable hotel has in spades. Its 202 guestrooms and suites are among the largest in the city. And then there are the exquisite marble bathrooms, so big you practically need a ball of string to find your way back to the bedroom afterwards. They are not only supplied with towels as big as bed sheets and exclusive Ayurvedic amenities by Forest Essentials, but also have a window. State-of-the-art hair-dryers, separate rain-forest showers and LCD TVs are pretty standard bathroom fare these days at the five-star deluxe level, but if space is one of the last luxuries, then natural light, surely, is another.
Naturally, other luxury features abound. From in-room check-in (no queues, no announcing your business to the world in a clamorous lobby), and the luxury retail arcade to the ineffably discreet butler service, the Oberoi Group has it sorted. Ah, the butlers! They have been professionally trained by England's top butler school and effortlessly combine the refined art of service with extreme intuition and resourcefulness. Need some cold-press Tuscan olive oil for your breakfast tomatoes? I personally don't, but I've heard about a guest who did. Need a zip repaired pronto or a letter faxed yesterday, or a lost package located at the heaving Indraprastha main post office in New Delhi? Your butler will arrange all of the above, in record time and with a smile on his face.
He will liaise too, with the doorman, taking care of all your transport requirements around the city. The hotel has a fleet of long-base BMWs – I think they were up to 18 at the last count – so that even in a city where having a car and driver at one's disposal is nothing out of the ordinary, Oberoi takes the provision of transportation to a new level. Luxury indeed.
Plus, the Oberoi drivers, it has to be said, have to be among the friendliest and most instinctive there are. In my three days of meetings all over Delhi, and with a packed social diary to boot, my driver was never more than a barely-raised eyebrow away, air-conditioning in the car set always to the perfect temperature, cold towel and invitingly chilled water bottle waiting for my return. One day, after mentioning I enjoyed doing the Daily Telegraph crossword puzzle, a hard copy of the newspaper mysteriously appeared beside me on the back seat. You don't get that with Uber.
The driver service really is a boon. Mind you, urban resort that it is, you could happily pitch up at The Oberoi, Gurgaon, and stay a week without ever having – or more importantly, wanting to leave. And you could stay a fortnight and never eat the same thing twice at either of the hotel's two superb restaurants. At Threesixtyone, a cheekily-named spin-off of The Oberoi, New Delhi's famous all-day café, Threesixty Degrees, breakfast might feature exotic juices like jackfruit, tangerine or Java plum, fruit-packed home-made jams and perfect idlis, appams and dosas straight out of the oven or pan. Here, the buffet table, which in so many Indian hotels has become a parody of itself, is a thing of refined beauty, while Indian, Chinese and Japanese kitchen stations produce dishes which do all of those illustrious cuisines proud. Recently arrived master chef Hiroshi Kagata from Osaka is a diploma holder from the prestigious Kyoto Culinary Art College, and a certified blowfish preparation expert to boot. Oh, and by the way, if anyone knows of a more authentic or delicious wood-fired pizza east of Naples, kindly let me know where to find it.
Meanwhile, the ultimate treat at The Oberoi, Gurgaon, is dinner at Amaranta, the hotel's dedicated modern Indian restaurant, situated on Level 3 of the main lobby. With only 44 covers, Amaranta is relatively small, which gives it a modest air of exclusivity, coupled with bags of charm. A team of six regional cuisine specialists from Goa, Kerala, Tamil Nadu, Andhra Pradesh, West Bengal and Rajasthan work under acclaimed chef Tejas Sovani, ensuring the most authentic regional Indian cuisine. As for the food itself – seared sea bass, sublime butter chicken, or heady clove-smoked lamb chops – they all speak of comfort food, although the level of finesse is a long way from the nursery.
How to sum up The Oberoi, Gurgaon experience? I'll let a guest do it for me. Sitting in the Piano Bar after dinner one evening, a well-dressed American couple sipped Brandy Alexanders at the next table. "Frankly", I heard the chap say, almost conspiratorially, "you can never go wrong with Oberoi". And frankly, I would have to agree with him.