Wanderlust
Escape to Africa
Majestic lions, magnificent wild elephants and an untouched, untainted landscape weaving together nature and culture – that's East Africa for you
The sky always seems bigger in the Serengeti. The famed savannah in the middle of East Africa is so flat and so vast, and the visibility so clear, that the horizon line remains long and low all around you, appearing uninterrupted in the impossibly far distance for 360 degrees, almost until the curvature of the Earth causes the cracked, reddish-brown ground to fall from view.
"
The sky looked like a huge blue dome curling up and above us, its puffy white clouds receding into the distance in layers.
"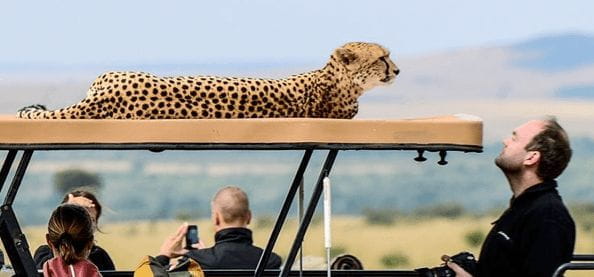 To see the sky here at its biggest, however, you must sail above the savannah in a sunrise hot-air balloon ride, which is how I found myself experiencing it in the middle of a 12-day safari in Tanzania and Kenya. Feeling as much a part of the atmosphere as of the Earth, I floated in absolute silence — save for the occasional whoosh of the balloon's flame, and the oohs and ahs of my 10 or so fellow travellers. The sky looked like a huge blue dome curling up and above us, its puffy white clouds receding into the distance in layers.
Below us, the show was just as impressive. Graceful impala bolted across the terrain, their shiny, golden coats showing off impressive musculature. A pair of topi — larger antelope cousins of the impala — practiced their fighting skills (perhaps to impress the females), knocking their short, ridged horns together. Warthogs, including several young, scurried along with their skinny little tails shooting straight up at the sky, like the flags on letterboxes. Ostriches pecked here and there, their poofs of plumes catching the morning light. But it was the herd of elephants that most impressed, a mix of females young and old, plus one so small we caught it nursing underneath its mother. The balloon pilot let us drift down lower, lower, closer, closer, until it felt like we could count the number of eyelashes on each elephant's face. The great beasts turned their heads to look at us, flapping their massive ears forward in a show of dominance, and warning. And then whoosh — the pilot floated us up and out of harm's way.
I'd come to East Africa for experiences just like this — to connect with nature and with the wild by seeing some of the world's most impressive species up close and personal. Increasingly, they are also some of the most threatened of animals on the planet, as continued poaching in pursuit of ivory and skins, and destruction of habitat because of human encroachment reduces numbers greatly. Going to Africa right now feels vital, not just to see these creatures before it's too late, but, more importantly, to travel with and support companies that make conservation a part of their missions.
To plan my trip, I turned to Micato Safaris, a second-generation, New York-based family-owned and operated high-end safari specialist that got its start 50 years ago in the Kenyan capital of Nairobi where its founders, Felix and Jane Pinto, still live and entertain the company's guests. Thanks to its expertise, its command of logistics and its knowledge of the best of everything across the African continent, Micato has been named the #1 World's Best Safari Outfitter an unprecedented nine times by the American magazine Travel + Leisure. It's also a five-time winner of Conde Nast Traveler's World Savers award, honoured for its partnerships with conservation organisations doing work on the continent and for the successes of its non-profit arm, AmericaShare.
When you travel with Micato, the adventure begins several weeks before departure. That's when a large container arrived at my house, via UPS, stamped with the legend "Traveller's Trove." Inside, I found a green waterproof duffle bag to use for my trip — emblazoned with Micato's logo and specially designed for the company by Marmot. Even more exciting was a metal-trimmed cardboard box containing safari documents wrapped in leopard-printed tissue paper: my professionally bound, lyrically written itinerary with full-colour photos; a recommended reading list; packing suggestions and more. I entertained myself for the next few hours by getting lost in the descriptions of what we'd do, what we'd see and where we'd stay, and then scrolling through Amazon to buy such required reading as Karen Blixen's Out of Africa and Ernest Hemingway's Green Hills of Africa.
For the Serengeti is the land of Blixen and Hemingway, of Maasai warriors and cattle herders, of the Great Migration of wildebeests and the predators that follow them. It's the stuff of safari legend and also, arguably, the place where safari got its start. The region hasn't always lived up to its promise, however. Overcrowding plagued national parks in Kenya and Tanzania, poachers threatened animals, and accommodations often proved more rustic than refined. Increasingly, however, private conservation concessions are becoming models of land stewardship, with lodges that are raising the hospitality bar while also providing smart ways for guests to engage with their surroundings. "Conservation and community have really become a focus," says Dennis Pinto, Micato's managing director and the son of its founders. "People see they're part of the fabric of what happens, and they want to be part of the process. They want to get out and be in nature." The itinerary his team put together would let me do just that.
My Micato trip took me from the Maasai Mara — what the Serengeti ecosystem is known as in Kenya — across the border into Tanzania, with stays at lodges and camps both within national parks and on private concessions on their outskirts. Doing so allowed me to appreciate the difference between the two types of reserve, like the ability to go on game drives after dark and to go off-road in a safari vehicle in the private areas. These were generally also less crowded and often limited the number
of jeeps that could show up at any given
animal sighting.
Throughout the trip, our group was led by Philip Rono, a Kenyan-born Serengeti veteran who acted as our safari director. Every Micato trip includes someone in this role: an expert guide who remains with you from the journey's start to its finish, accompanying you from lodge to lodge, joining in the safari vehicles with the driver-guide from the camps to add his or her own knowledge. Thanks to Philip — whose easy laugh was infectious and whose deep gravelly voice made him sound like Louis Armstrong — within minutes of starting our first game drive, we happened upon a rocky outcropping where a pride of adult female lions and adolescents sunned themselves in the late-afternoon light. Cat napping in preparation for the evening's hunt, they twitched flies away with their tails and whiskers, taking no notice of our arrival, though we were barely 6 metres away. Even when they did open their eyes, our presence didn't faze them at all. "It's like we are the ones in the cage now," Philip remarked as the cats stared at us. "They look at us in this Jeep, and they wonder what we're doing here."
Each one of our twice-daily drives brought us impressive encounters like this, all of them paired with insights from Philip about animals' eating, breeding and migrating habits, as well as about the security of their status in the Serengeti. (At one point, I asked how often rangers catch poachers and he said those statistics aren't released — and the poachers aren't either: "The rangers shoot on sight.") Along the way, we learned about the importance of looking and listening and really lingering over the sightings, not giving in to the urban rat-race tendency to move on to the next thing as quickly as possible.
Listening, looking and lingering led us a few days later to a huge hippo we found out of the water and lumbering through the grass in the middle of the day — a rarity. She gave us a big open-mouth display of warning when we got too close, and then glided down an embankment into the river. Later in the day, we'd see an entire hippo family some six strong, running alongside another river before sliding one by one from the shore into the water, each one making a different sized splash.
On our final stop, at a private concession adjacent to Serengeti National Park in Tanzania, we spent an hour around sunset embraced by a massive herd of more than 100 elephants. With the engine cut, we could hear the animals' footsteps and the sounds of their chomping away on grass and leaves as they grazed their way across the savannah. Then, driving back to the lodge, we made a detour to find a group of lion cubs and lionesses waking up from an afternoon slumber in the tall grasses. Though our day was ending, theirs was just starting. The hunt would soon be on.
The next day, going to sleep on our last night in the bush before heading back to Nairobi — where we'd meet the Pintos at their beautiful home and visit the education programmes Micato has established in the city's slums — I was reminded of something I'd read in Hemingway's Green Hills of Africa earlier in the trip: "All I wanted to do now was get back to Africa. We had not left it, yet, but when I would wake in the night I would lie, listening, homesick for it already."