Hotel
The Oberoi Sukhvilas Resort & Spa – haven of serenity
Seamlessly weaving together traditional elements of Indian architecture, aesthetically landscaped gardens and beautiful water features, The Oberoi Sukhvilas Resort & Spa, Siswan Forest Range, New Chandigarh has been designed to please the eye and spirit alike.
Kohinoor villa
At 392 square meter, the Kohinoor Villa is reminiscent of a traditional haveli, with a sun-lit central courtyard. It has three large bedrooms, expansive living and dining spaces and a 55-foot-long temperature-controlled private pool: a veritable home away from home, ensconced in opulent luxury.
"
If peace of mind is what you seek from your vacation, The Oberoi Sukhvilas comes to you as a haven of silence and absolute calm. With a deep sense of serenity permeating through the lush green all around, peace is not difficult to find.
"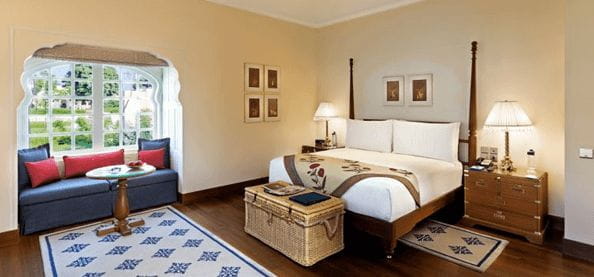 Royal forest tents with private pools
If you've ever wondered whether the concepts of outdoor camping and luxurious comfort can be brought together, the Forest Tents at The Oberoi Sukhvilas are the answer to all your questions. Spacious, triple canopied, temperature-controlled accommodations with verdant views of the forest, all Forest Tents are well-equipped with modern conveniences to cater to your every need. Spanning 74.3 square meter each, they also feature bathrooms with private garden views and a private temperature-controlled swimming pool.
Royal tents
The Oberoi Sukhvilas' Royal Tents evoke the times of the British Raj, when travelling caravans of royalty would rest overnight under magnificent canopied shelters. Spread over 74.3 square meter each, these temperature-controlled luxurious tents feature spectacular bathrooms with beautiful landscaped garden views.
Luxury villas
The one-bedroom Luxury Villas at The Oberoi Sukhvilas span a lavish 139 square metres and feature jharokha cornice windows, a fireplace and a private garden with a temperature-controlled swimming pool. Their unique design touches, privacy and spacious layouts are one-of-a-kind among luxury resorts in Chandigarh and embody an unparalleled holiday experience.
Premier room
Spanning 65 square metres each, the resort's 46 Premier Rooms are arranged in small clusters that afford privacy for all guests. With a high ceiling and large windows, each Premier Room is filled with natural light and forest views. Furnished with exquisite hand-crafted furniture and featuring Oberoi E'nhance alongside all modern conveniences, each room also features a spectacular bathroom overlooking a private landscaped garden.
Dine in style
If you're looking for the best fine dining restaurant in Chandigarh, the speciality and multi-cuisine restaurants at The Oberoi Sukhvilas are your one-stop destinations for all things epicurean. With both indoor and al fresco seating options, they can make for as good an experience of a noon-time brunch as they can of a hearty dinner. With stunning views of the forest, they are caressed by a perennially fresh, fragrant breeze for that perfect dining experience in the lap of nature. The multi-cuisine main restaurant is decorated with traditional, hand-painted, gold leaf frescoes and its indoor and al fresco luxury dining spaces serve sumptuous international cuisine for breakfast, lunch and dinner. Exquisite traditional fireplaces and crystal chandeliers add to the mystical charm of the luxury dining room and the view of the forest as you savour the finest delicacies makes for a truly fulfilling dining experience. The delectable food aside, the live folk music and dance performances in the outdoor dining space can make an already perfect dinner a notch more perfect. The Indian speciality restaurant at the resort, located at the end of a paved forest trail, boasts a spectacular outdoor seating area. It is lit up after sunset every day with mashaal torches that impart to dinnertime that quintessentially warm evening glow to make the day's final meal a satisfying conclusion to the day.
Raise the bar
The bar, on its part, pays homage to Sikh warriors with its grand themed decor. It is an ideal setting for an aperitif or a nightcap you might wish to enjoy. As you recline luxuriously in an armchair near one of the fireplaces, you can take in the portraits of brave Sikh warriors and admire the detailed depictions of epic battles in the hand-painted frescoes that adorn the walls of the bar. There are few better settings within which to savour a single malt, sip on a cocktail or relax with a cup of fine tea or single-origin coffee.
Unwind at the spa
The exquisite spa at The Oberoi Sukhvilas is a tranquil, light-filled space ensconced within 8,000 acres of protected, natural forest. Large windows offer spectacular views of the Siswan forest and the elegant interiors are embellished with stunning glass, fire and water features. It is a truly spectacular setting to experience massage therapies, Ayurveda, hydrotherapies, a steam room, an ultraviolet sauna, a Turkish Hammam and a Roman tepidarium. Receive a warm welcome from your personal spa therapist before being guided through extensive hydrotherapy facilities that include an infrared sauna, lifestyle showers with ocean mist, a vitality pool and more. Follow this up with a Western, Eastern, signature Oberoi massage or Ayurvedic therapy and finish with a relaxation session in your private wellness garden with a cup of calming herbal tea or a flavourful healthy salad. With verdant views on every side, the property is the most exquisite and most relaxing luxury spa resort in Chandigarh, surrounded by over 8,000 acres of the Siswan forest at the foothills of the outer Himalayas.
Beyond the resort
Besides being a complete luxury vacation experience in itself, The Oberoi Sukhvilas is also located within a city rich in history and ethno-cultural heritage. After the partition of India in 1947, the former British Punjab was split between India and Pakistan. As its former capital, Lahore, was now in Pakistan, Punjab required a new capital in India – and so Chandigarh was formed. The first Prime Minister of independent India, Pandit Jawahar Lal Nehru, wanted Chandigarh to be a model city for the deluge of refugees coming in from across the new border every day. As a result, when Swiss architect Le Corbusier was commissioned to design Chandigarh in 1950, he imagined a people-oriented city with comfortable housing and health centres, tree-lined boulevards, lakes and gardens – all embellished with his signature "Open Hand" sculptures that serve as symbols of peace and reconciliation. Over the years, Chandigarh has grown into a meticulously planned city that is characterised by a confluence of history and contemporary architectural marvels. The Rock Garden, for instance, is its best known landscape highlight, with 40 acres of green garden space dotted with sculptures made from recycled bottles, glass, bangles, pots, kitchen sinks, electrical waste and other discarded items. Built in secret, the park remained undiscovered for 18 years until 1975, by which time it had grown into a vast labyrinth of interlinked courtyards. The Pinjore Garden is another place you must visit. A Mughal-style garden created in the 17th century by the rulers of the Patiala dynasty, it is laid out in terraces lined with towering trees and abundant flower beds. It features four distinct palaces – Shish Mahal, the palace of glass, Hawa Mahal, the palace of air, Rang Mahal, the painted palace and Jal Mahal, the palace of water. Once you're satiated with the gorgeous landscaping in the city, pay a visit to Sukhna Lake – a tranquil water body you can stroll around in the evening for the perfect ending to your day.