Art
Ode to connoisseurs
India's finest private collections of classical Indian art mindfully preserve its creative heritage
Classical Indian art demonstrates the power of narrative and the emotive qualities of colour, form and concept. The collecting of Indian miniature paintings is not a new phenomenon. The appreciation and scholarship in this field has existed for centuries, since the time of the Mughal emperor Jehangir (r.1605-1627), who was an artist and connoisseur of the arts.
"
Connoisseurship has languished in past decades amid a wider audience, yet its heritage does it enormously proud.
"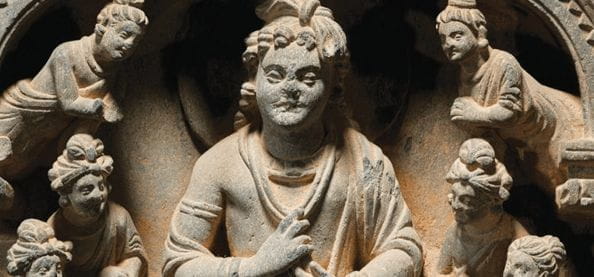 ''Maiden before a Blossoming Tree', circa 1780, from the Tandan collection
The history of collecting classical Indian art in modern India is full of remarkable personalities too. However, in the vast arena of world culture, Indian art has been deeply undervalued. Connoisseurship has languished in past decades amid a wider audience, yet its heritage does it enormously proud. Karl Khandalavala, chairman of the Prince of Wales Museum (1958-1995) was one of the finest scholars in the field, who influenced and advised several early collectors. For Saffronart's first live auction of antiquities in December 2015, it was extremely fortunate to have assembled an extraordinary "collection of collections." Miniature paintings from Colonel RK Tandan and his father, RC Tandan, encompassed and represented the greater story of their diverse interest in the arts, while reflecting the seamless evolutionary process that connects classical and contemporary art and artists. Colonel RK Tandan took an early retirement from the army to devote himself to his passion for art. He was one of the greatest known collectors and scholars of Indian miniature paintings in India. He was at the heart of a network of inspiring connections that included his friend, the brilliant barrister and art historian Karl Khandalavala. Col. Tandan began collecting when he was a new recruit into the army, at first sporadically and then definitively by the 1950s. During a posting in Hyderabad, he acquired a garden sculpture from the Nizam's collection, along with several other artefacts and works of art. He gradually built one of the finest personal collections of ancient Indian art, comprising some 1,400 pieces, covering mainly miniature paintings, bronzes, sculptures, illustrated manuscripts, wood carvings, terracotta artefacts and decorative metalware dating from the second century BC to 19th century AD. After completing the required 24 years of military service, he volunteered for an early retirement and devoted himself to researching and writing on Indian art, paintings in particular.
His love for Indian art was nurtured by his father, RC Tandan of Allahabad. RC Tandan, too, was a littérateur and art lover with extraordinary vision. He was one of the early supporters of Amrita Sher-Gil, a patron of Ramgopal Vijaivargiya and is the author of a monograph on Nicholas Roerich. He published The Art of Amrita Sher-Gil in 1937, which is widely considered to be the first written document on the artist's work. RC Tandan's interest in ancient coins sparked the family's enduring and collective love for ancient Indian art. He was especially interested in the scripts printed on the backs of the coins, an obsession that stemmed from his love of languages. This and a larger interest in antiquities led to several archaeological expeditions with his son.
Sohrabji K Bhedwar, another great collector who was the architect of the Eros Cinema in Bombay, also built one of the most refined collections of bronze sculptures in India. When the SK Bhedwar Collection came up for sale, Khandalavala advised another friend, Khorshed Karanjavala, to acquire an extraordinary 15th century bronze sculpture of Parvati. Sold at `6.48 crores ($981,818) in Saffronart's sale in December 2015, it set the world record price for a work of classical Indian art sold at an auction in India. Other pieces from the Bhedwar collection such as the Gupta period bronze Buddha, widely considered to be the finest in existence, sadly left the country and are now in the Norton Simon Museum in Pasadena and the John D Rockefeller III Collection at the Asia Society in New York.
Several exemplary works of classical Indian art feature in Saffronart's upcoming auction in December 2016, too. A large selection of paintings is from the collection of Motichand Khajanchi of Bikaner, who acquired a fine collection of Rajasthani miniatures. Many of the important works of art from this collection, selected by Khandalavala and Rai Krishnadasa, were exhibited by the Lalit Kala Akademi in New Delhi, Bombay and Calcutta in 1960. As Khandalavala, Moti Chandra and Pramod Chandra put it in their book, Miniature Painting, "These are notable not only for their aesthetic appeal, but also supply much useful material for elucidation of various problems relating to the chronology and development of certain schools of Indian miniature painting." Khajanchi's knowledge about the Bikaner school of miniature painting, too, has made a significant scholarly contribution to the compilation of this catalogue.
In addition to being a feast for the eyes, these collections provide a window into the passionate tastes of previous connoisseurs, as well as a context and guide for new collectors.