Collectibles
Vessels of vertu
From gold snuff boxes inset with diamonds, amethysts and sapphires to ornately enamelled perfume flasks, these exquisite objects are an essential addition to your shelf, and might even be put to use as luxurious accessories!
Crafted using precious metals and adorned by enamel, precious gems and more, antique objects of vertu – although highly valued for their intricate craftsmanship – are essentially conceived for practical purposes. In other words, they embody the perfect marriage of beauty and utility. From exquisite vinaigrettes (small containers used to keep aromatic substances or salts) and snuff boxes to compacts and perfume flasks, if you are a seeker of modestly proportioned objects of rare design and exquisite quality, be sure to acquire some of these for your shelf.
"
The designs and functions of these objects are reflections of the times in which they were created.
"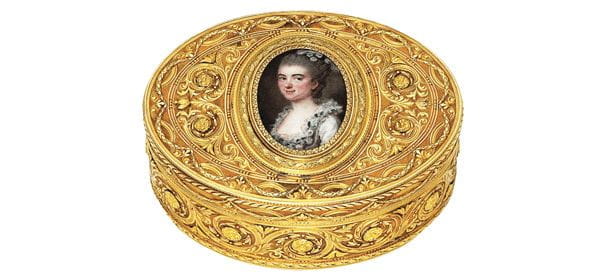 In 20th century Europe, objects of vertu were crafted by the finest jewellery houses for the most fashionable among the elite. They were meant to serve as works of art as well as accessories and were, as a consequence, greatly treasured – and well used - by their owners. Christie's specialist Jill Waddell explains that they are ascribed with the word 'vertu' on account of the "virtuosity of their craftsmanship", and that they "usually take the form of small boxes or containers made of precious metals such as silver or gold" - the finest examples often featuring enamel or being mounted with diamonds and other precious stones.
The earliest instances of these objects date back to the 18th century and were primarily meant for the gentlemen of the era. Presented mostly as diplomatic gifts, they largely comprised snuff boxes until more forms and styles began to emerge with the passing of time, such as the boites à mouches (a small box with multiple compartments to accommodate a brush, some gum and small round tabs to mimic facial moles). Carnets de bal (dance cards accompanied by a small pencil to make notes) and needle cases created by specialist French, German and Swiss makers also gained a fair amount of popularity as the years went by. By the early 20th century, objects of vertu had evolved into what a Christie's expert describes as "the ultimate accessory for a night on the town, whether in Paris, London or New York". Crafted to perfection by the likes of Van Cleef & Arpels and Cartier, they were intrinsic to a luxurious evening ensemble, no matter where you were. Waddell points out, "Salons such as Estée Lauder and Elizabeth Arden would fill them with [their] special formula of powder, lipstick and blush... Some [had] tassels and wristbands, so they were not made for hiding in an evening bag, but to be displayed prominently, like additional pieces of jewellery."
Glamorous, artistic and essentially personal, these objects are also believed to have been adapted for different uses through the centuries. Some of the smaller ones among them, in fact, can even be used as accessories today. And the fact that they might show signs of wear, having been used before, is actually an addition to their general appeal.
"These are things that have been loved," Waddell explains. The designs and functions of these objects are reflections of the times in which they were created, and can range from Chinoiserie to Art Deco. "They were made in numerous styles, materials and colour combinations. We tend to see a lot of strong geometric themes, often set with sapphires and diamonds in beautifully shaped mounts, with a focus on form and patterns," she says.
Objects of vertu come in an array of sizes, styles and precious materials, and this area of collecting has been witnessing a steady revival across the world. Waddell cautions that since they are essentially personal objects, care should be taken while collecting to look beyond merely the mark of the maker. Those among them that are of rare design and in suitably good condition, have been known to achieve good prices at international auctions. While some of the oldest gold boxes have gone under the hammer for seven-figure sums, 20th-century objects that showcase rare materials and exemplary craftsmanship can sell for even higher.
From a collector's point of view, Waddell points out that among the most important things to consider is provenance. "Always look out for an engraved inscription. This can tell us who the object was originally presented to, and also indicate any related documentation," she says, adding that the condition of the object supersedes all else. "Many pieces have internal compartments, and it is a good idea to make sure that all the hinges are flush and that the case closes," she cautions.