Gourmandise
A taste of India
Modern Indian cuisine is coming into its own, with pioneering Indian chefs like Vineet Bhatia, Gaggan Anand, Tejas Sovani, Vivek Singh and Atul Kochhar leading the way
The first thing to remember, if you are trying to understand India, is that it is less a country, more a continent. Many of the world's great religions (Islam and Christianity, for instance) came to India long before they reached Europe. Four great religions were created in the subcontinent (Hinduism, Buddhism, Jainism and Sikhism) and Jews, seeking refuge from persecution, found shelter in India centuries ago. There has never been any anti-Semiticism in India.
"
A new generation of chefs, most of them Oberoi-trained, left India to open new restaurants in London. They adapted the European style of plated presentation but recreated the flavours of the sub-continent, moving away from the Punjabi restaurant tradition.
"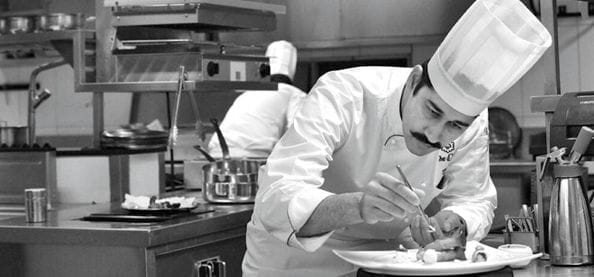 The geographical scope of the Indian sub-continent is vast, from the mighty Himalayas in the North to the deserts of Rajasthan in the West and the beaches of Kerala in the South. The ethnic diversity is unmatched: Kashmiris have fair skin and light eyes, the people of India's Northeast have distinctly Oriental features and South Indians may be dark-haired and dark skinned. India has 23 official languages and the total number of mother tongues spoken in the country is a staggering 1,652. How, then, do you define the cuisine of a continent or at the very least, a subcontinent?
Consider the fact that till 1947, India included the countries that now comprise Pakistan and Bangladesh, and you have some idea of the complexity of the problem. Indians handle the cuisine issue by never talking about 'Indian food' just as Europeans rarely talk about 'European food' and Africans never use the term 'African food'. Instead, we treat each cuisine as separate and distinct with perhaps one or two unifying features, such as the use of dry spices. We recognise that British and Bulgarian food have far more in common than, say, the cuisines of Kashmir and Nagaland.
So, what kind of food is served in "Indian" restaurants? Well, it rather depends on where you eat it. India has no great restaurant tradition and most restaurants date only from the second half of the 20th century. It was from 1950 onwards that (mostly) Punjabi restaurateurs set up restaurants all over India serving a cuisine that mixed North Indian Hindu and Muslim traditions and made extensive use of the tandoor for such dishes as chicken tikka and, of course, tandoori chicken. The vast majority of Indian restaurants in the UK, however, were owned not by Punjabis but by Bengalis from the Sylhet region (now part of Bangladesh) who set up curry houses. They did not serve their own Bengali cuisine but offered variations of the Punjabi restaurant menu. They also made up new dishes and gave them evocative names, though. A Madras curry may have been popular in Birmingham but it was unknown in Madras. A curry-house vindaloo had nothing in common with the Goan dish of that name.
This situation endured till the 1980s, when the cuisines of other parts of India began to be represented on restaurant menus – at least in India. At The Oberoi Group of Hotels and Resorts, for instance, the Mughal Room – the old flagship Indian restaurant – had its roots solidly in the Punjabi tradition. But Kandahar, which succeeded it, drew extensively from the food of the nawabs of Avadh in Utter Pradesh. But even as Indian restaurants began to discover their own cuisines, the pace of change hastened in London. Brits were tired of curry house vindaloos and longed for something that reflected India's complex culinary heritage. A new generation of chefs, most of them Oberoi-trained, left India to open new restaurants in London. They adapted the European style of plated presentation (in India, all food is shared by the whole table) but recreated the flavours of the sub-continent, moving away from the Punjabi restaurant tradition.
The star was, of course Vineet Bhatia, who had been the chef at Kandahar at The Oberoi, Mumbai. Bhatia won great acclaim for his creative spin on Indian cooking, first at Zaika and then at Rasoi, both of which earned Michelin stars. Vineet opened Rasoi in Geneva and consulted for Indian restaurants around the world before coming back home to open Ziya at The Oberoi, Mumbai in the exact same space where he had once run the Kandahar kitchen. Other celebrated chefs included Atul Kochhar (also from The Oberoi, Mumbai) who won a Michelin star at Tamarind in London before opening his own Benaras in Berkeley Square. Vivek Singh, another ex-Oberoi chef, saw The Cinnamon Club become the favourite restaurant of British MPs and won rave reviews.
The London restaurants changed the way in which the world looked at Indian food. Till the Michelin stars began coming, Indian cuisine had been regarded by the West as being nothing more than cheap and cheerful. In the UK, restaurant-owners had little interest in explaining the rich traditions of real Indian food and Westerners had rarely tasted the real thing.
But even as the London chefs were winning stars and awards, another revolution was taking place in India. The chefs who had gone to London had found respect and had been given opportunities to experiment. Some of them transferred this new found freedom to Indian kitchens. Manish Mehrotra had worked at a Pan-Asian restaurant in London but had longed to come back to India and open a new kind of restaurant. While the London chefs competed with high-end European places, Manish knew that his challenge would be to take on the Indian restaurant sector in Delhi and make people think about food anew.
It helped that he was trained in Thai and Chinese cooking. So, he eschewed the Frenchified presentation of the London chefs and created his own kind of cuisine, using Indian references for his presentation and serving dishes that mingled food from all over India (Manish is from Bihar, grew up in Delhi and Mumbai, and married a South Indian). Indian Accent quickly became the most influential restaurant in India and chefs from Manish's kitchen were lured away to start several highly successful restaurants in India and Dubai. In a sense, Indian Accent started a whole new wave of modern Indian food, one that owed little – except for its spirit – to the Michelin-starred London chefs.
Meanwhile, in another corner of Asia, a young Indian chef called Gaggan Anand was toiling away in a Bangkok hotel kitchen. Rajesh Kewalramani, a wealthy Indian who lived in Thailand, was one of Gaggan's biggest fans. One day, he asked Gaggan if he wanted to start a restaurant of his own. "Yes," said Gaggan. "But not the usual Indian food". At that stage, molecular gastronomy was all the rage so Kewalramani urged Gaggan to go to Spain and work with El Bulli's Ferran Adria. When Gaggan returned, they opened a restaurant which blended the new technology with Gaggan's mastery of Indian flavours.
It took them less than a year to win global recognition and now, Gaggan is rated, for the third year in a row, as Asia's Best Restaurant in a list of Asia's Top 50 Restaurants. (Manish's Indian Accent is the only other Indian restaurant on the list). He continues to grow as a chef and the molecular influences are now receding from his food. Between the great London chefs (chiefly Vineet Bhatia) and Manish and Gaggan, the nature of Indian restaurant food has changed. Yes, there are still very good traditional Indian restaurants but younger chefs are looking beyond Punjabi food for inspiration.
One example is the Masala Library/Farzi Café chain. At the more formal Masala Libraries (in Delhi and Mumbai), Chef Saurabh Udinia draws on the little known flavours of India's Northeast (states like Nagaland and Mizoram) and merges them with South Indian and Goan spices to create a distinctive cuisine. At Farzi Café which, like Masala Library, is owned by Zorawar Kalra, the emphasis is on a younger demographic which now sees Indian food as hip and trendy.
And then, of course, there's the award-winning Amaranta at The Oberoi, Gurgaon. When it opened, Amaranta recreated South Indian flavours, unfamiliar to Delhi diners, using fish that was freshly flown in from the coast every day. But over time, the chefs have become more ambitious. A stage at Noma in Copenhagen taught the current chef, Tejas Sovani, about the importance of ingredients (Indian cooking sometimes neglects ingredients while concentrating on spicing) and his current menu is unique: no Indian restaurant anywhere in the world interprets our cuisine in this manner.
What unites the cuisines of such chefs as Vineet Bhatia, Atul Kochar, Vivek Singh, Tejas Sovani, Sourabh Udinia, Gaggan Anand and Manish Mehrotra? It's both difficult and easy to say.
It's easy because they are all drawing inspiration from the same source: India's rich culinary tradition. But it's hard to say because in a complex and diverse country like India, there is no one tradition and no one cuisine. The genius of these chefs lies in the way that each has found something that is different but is still uniquely Indian.
When you are interpreting the cuisine of an entire subcontinent for the 21st century, you would expect nothing less.