Travel
Whirling along the Nile
The Oberoi Philae, Luxury Nile Cruiser takes you through the highlights of the Egyptian river on a ship befitting the pharaohs
For each of us, certain destinations carry more weight than others. They feel important, even essential. For me, one of these was the Nile. Pharaohs sailed these waters thousands of years ago, leaving temples in their wake. And now, I would follow their lead.
"
The exterior of The Oberoi Philae rings of nostalgia, with the handsome air of a 20th-century steamship.
"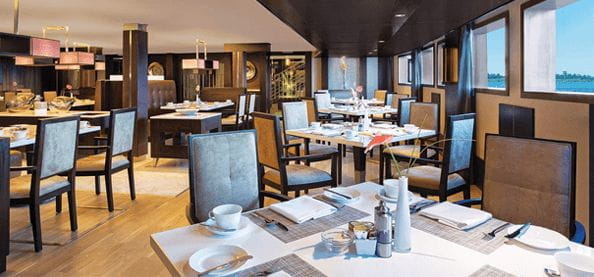 Surely the pharaohs would have been impressed by our vessel. I was travelling on The Oberoi Philae, a luxurious 22-room cruiser that reopened in 2016 after an extensive refurbishment. The exterior of The Oberoi Philae rings of nostalgia, with the handsome air of a 20th-century steamship. Stepping onto the vessel, I was struck by the contemporary interiors. A graceful chandelier hung overhead. Marble floors gleamed under sleek leather benches. Chrome glimmered alongside dark wood. With windows at every turn, there's no forgetting where you are: The Oberoi Philae allows the Nile to speak for itself.
Our four-night journey started in Aswan, the most scenic stretch of the Nile, with royal blue waters and palm trees that bend overhead. From there, we sailed down the river – the Nile flows south to north – to our finale: Luxor. Along the way, the ship became and our home and our playground.
After a welcome drink in the lounge, a bellman offered to escort my husband and me to our room. Or did he say suite? He opened the door to a spacious living room that opened up to a plush bedroom with buttercream bedding. To our surprise, we had been upgraded to a fabulous Luxury Suite. Inside, light streamed in through French windows and the curtains blew in the breeze. A hallway led to a bathroom with shining blue tiles and a soaking tub that overlooked the Nile. As I turned, the bellman was opening the curtains to reveal the pièce de résistance: a private terrace with a Jacuzzi tub bubbling away.
We set out to explore the ship, poking our heads into the chic bar, cozy cigar lounge, sun-filled gym and serene spa with floor-to-ceiling windows. The ship is crowned with a fabulous roof deck, a sunny expanse of rich wooden floors with lounge chairs that curve around the perimeter. At the centre, an 11-metre pool sparkles in the sun. The pool beckoned, but it was time for lunch. We chose a window-front table in the elegant dining room. Our waiter, who would help us throughout our stay, brought us the day's menu, peppered with Western, Indian and Middle Eastern choices. I ordered chilled cucumber soup, a perfectly-prepared piece of fish and fresh fruit. As we would find, the restaurant is a true highlight of The Oberoi Philae, surprising and delighting us daily.
Well-fed and settled, it was time to explore the Nile. We boarded a small sailboat with our guide, a trained Egyptologist. The Oberoi Philae works with the finest guides in the region, who lead engaging tours in small groups. Our first temple was Philae, set on its own island. The temple is made of gold-coloured stone with soaring colonnades, pylons and figures etched into the surface. Surrounded by sparkling water and leafy plants, the approach by boat is positively cinematic. Inside, our guide told us the history and allowed us to wander freely.
Stepping back onto the ship, we were greeted with smiles, cold towels and a refreshing glass of lemon juice. The group stayed to chat about the day's tour, but I snuck off to my suite to make an espresso and slide into the Jacuzzi, book in hand. And yet, I couldn't seem to get much reading done. Instead, I gazed out over the Nile and watched water buffalo graze.
And in this way, we eased into our rhythm. We would tour ancient temples and dive into stories of ancient Egyptian life and lore. Then, we would retreat to our terrace or the sunny roof deck. The Nile is a whirlwind of sites, but each transfer gave us time to recharge and absorb all we had seen.
The following evening, we arrived in Luxor. We set out that night to see Luxor Temple awash in a golden glow. Back on the ship that evening, we were all giddy with wonder. After our final dinner – another masterpiece – we were led into the lounge for a dance performance. A dancer spun around at a stunning speed for minutes on end, in the style of the Whirling Dervishes. I wondered how he could keep his centre, until I could tell he was spotting, returning his gaze to the same place with each revolution. That's how he could make sense of all the whirling. After every spin, he had a base to return to, just like us.