Travel
A royal welcome
When travelling along the path of kings and queens, The Oberoi Hotels & Resorts offer a palatial place to rest
Your dreams can become self-fulfilling prophecies, in travel and in life. For me, my visions of India have been filled with vibrant natural beauty, extravagantly adorned palaces, exemplary craftsmanship and yes, royalty. Kings, princesses, maharajas and maharanas all had starring roles in the India of my recurring dreams, since the destination has been near the top of my travel wish list for more than half my life. Often, for dreamers, reality pales in comparison. Perhaps that's why my 11-day jaunt exploring Agra, Jaipur and Udaipur was such a pleasure — the reality of the experience was better than my wildest dreams.
"
As the sun made its grand entrance, pink, yellow and orange sunbeams emerged from behind the palace, making a perfect picture with boats crossing the lake.
"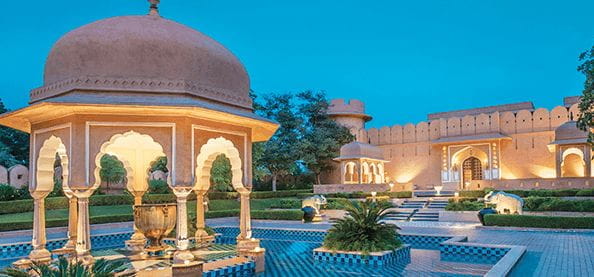 I didn't know before this trip, but The Oberoi Hotels & Resorts are experts at treating guests like royalty, so during my stay, I not only got to see ornate palaces and temples, but also got to enjoy the royal treatment of my own. Upon crossing the threshold of The Oberoi Amarvilas, Agra, a staff member anointed my forehead with sandalwood and placed a fresh marigold necklace around my neck – a traditional welcome for honoured guests. I would've been overcome with the beauty of the ceremony, but I was too busy staring at the city's star attraction, the Taj Mahal's gleaming white marble facade, framed by the hotel lobby's floor-to-ceiling windows. Even from a distance, it is jaw-droppingly beautiful. As I explored my balcony room, with its rich carpets, oversized soaking tub (also with a Taj view!) and hand-quilted bedding, another of the hotel's female associates made an inquiry. She noticed that I'd brought a sari in one of my bags. Did I know how to tie it? I did not, and hoped to wear it for my sunrise exploration, up close, of the world's most famous monument to eternal love. She told me not to worry: one of her colleagues would arrive at my room at 5:30 am to make sure I was properly outfitted. I could offer enough such stories from this brief visit to fill volumes about how service is king here, but suffice it to say that it's not surprising this property was the obvious choice to host Great Britain's Duke and Duchess of Cambridge (perhaps better known the world over as Prince William and Princess Catherine) during their India visit in 2016.
That night, I had my favourite meal of the trip at Esphahân at the Amarvilas, where the contemporary tasting menu envelope-pushes presentation and flavour combinations of classic Indian fare. Lamb shank, cooked for 16 hours, came alongside pistachio, raisin and quinoa pilaf, and a wonderfully delicate salmon fillet got the tandoori treatment with a side of sweet-tart pineapple and lemon-date dressing. Each course was more intricate than the last, including a beautiful dish of chicken, leafed in 24-carat gold.
Next, at The Oberoi Rajvilas, Jaipur, as I walked through the terraced water gardens, built to echo traditional Rajasthani palaces, vibrant pink rose petals floated down around me, infusing the moment with a dream-like quality. "A royal welcome for you," said the smiling team member who again placed a sandalwood powder mark on my forehead and, this time, lemon-coloured marigolds around my neck. Walking the ground to my room felt like stepping into a wonderland, far from the busy, frantic pace of downtown Jaipur. I later learned that was exactly the objective that the property's original builders had in mind: the serene Shiva temple and royal "summer palace" (which now houses the resort's delightful spa) were built as a retreat for Jaipur's royal family more than 250 years ago. Now, 32 meticulously manicured acres spread around the two buildings and the guest cottages, tents and main building, creating a haven for peacocks and other exotic birds. My first afternoon in Jaipur included a massage in the aforementioned spa, where knots I didn't even know I had from days of travelling became a faint memory.
Eager to visit Jaipur's must-see attractions, including the city palace complex with its impossibly massive silver urns (the world's largest) and intricate jewel-inlaid doorways, and craftsmen including textile artisans and master jewellers, I nearly missed another of this resort's starring experiences: an arti ceremony with the holy man who visits daily. Fortunately, my local Greaves tour guide for the day called and asked him to tarry a few minutes while we raced back to the hotel. As I walked the path to the age-old temple in the middle of the pond, I was so glad I didn't miss it. There, barefoot amid candlelight, he tied a red kalava on my wrist, rang a small bell, burned incense and chanted. I didn't understand his words, but the sentiment of peace transcended language barriers.
Just as all good plots build to a crescendo, my trip reached its pinnacle at The Oberoi Udaivilas, Udaipur, due perhaps in part to the surprise of an upgrade to the Cullinan Suite (aptly named after the rare 3,106-carat diamond of the same name). The oversized private pool with views of Udaipur's City Palace and glittering Lake Pichola made me never want to leave. One of jet lag's few blessings is waking early enough to see the glorious Indian sunrises. Pouring a fragrant pot of French press coffee while sitting on the patio, it was clear how Udaipur got its nickname "the Venice of the East." As the sun made its grand entrance, pink, yellow and orange sunbeams emerged from behind the palace, making a perfect picture with boats crossing the lake. Udaipur itself offered even more insight into the royal traditions of the area, as my guide Kamal Mehta took me through the City Palace, the largest of its kind in Rajasthan. As stunning as it appeared from a distance, it was even more spectacular up close, complete with intricate carvings, mirrored rooms and floor-to-ceiling precious jewel inlay. Seeing it in person gave me more appreciation for the Udaivilas' design, clearly inspired by the area's palaces. Wandering around the grounds later that evening, I noticed in awe the resort's Marwari architectural elements, miniature paintings, mirrored dome multiplying flickering candlelight, and white marble steps. The attention to detail is staggering and the level of service matches up, with staff members always remembering me by name and even offering recipes so I can recreate my favourite dishes at home.
The India of my dreams is bold and colourful, a place where princes and princesses live in unimaginable luxury and breezes are perfumed with fragrant spices. After experiencing it first-hand, I can say that it's a place where dreams come true.