Gourmandise
Epicurean soiree
The culinary offerings at The Oberoi Beach Resort, Al Zorah, reflect its vibe of simple sophistication
Stepping into the minimalist, light-filled lobby of The Oberoi Beach Resort, Al Zorah, it is immediately clear that this is an Oberoi property unlike any other. Set on a pristine beach in the lesser-known emirate of Ajman and backed by a natural mangrove forest, the architecture is sleek and contemporary with smooth white stucco, geometric wood partitions and soaring glass walls offering spectacular sea views.
"
Simplicity is something that is very hard to achieve.
"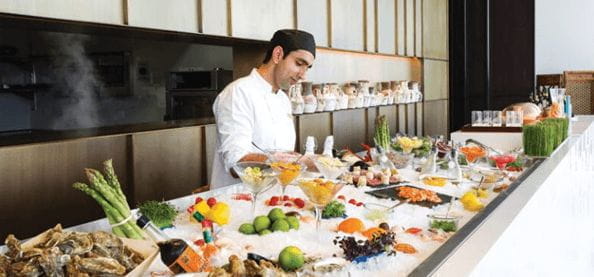 The resort's Scandi-style interiors are softened by woollen rugs in earthy shades and walls adorned with antique doors from Oman, while Asian accents – think blue-and-white porcelain stools and dragon-topped stone pillars feature throughout.
The resort's pared-back aesthetic is the work of Italian architect and designer Piero Lissoni. It shows a marked shift in style, not only for The Oberoi Group of Hotels and Resorts, but also for beach resorts in the region, which often favour audacious architecture and opulent Arabesque design. "My inspiration comes from the atmosphere of this magic place," Lissoni says. "The interior design is sophisticated, but based on simplicity."
Simple sophistication is a theme that runs through the resort's culinary offerings, too. There are two restaurants, Aquario and Vinesse – each with a bar and a poolside lounge offering tapas and bento boxes.
"Simplicity is something that is very hard to achieve," says executive chef Vishal Khulbe, who has worked alongside masters such as Ferran Adrià and Charlie Trotter. "All our dishes are based on the foundation of good cooking but with an Asian minimalist style of presentation. Sophisticated techniques such as sous vide really highlight the produce."
Khulbe is keen to feature responsibly sourced seafood and regional produce on his menus. "Customers are much more informed about what they're eating and they want to know where the ingredients come from," he says. "We use a lot of regional ingredients such as dates, labneh infused with truffle, sumac and za'atar spices, and camel milk in our gelato. But we don't serve hammour [grouper], due to sustainability issues."
There are organic fruits and vegetables from a farm in Abu Dhabi, whose fertile soil has been watered for centuries by ancient falaj irrigation channels; smoked salmon and cured meats from a Canadian smokehouse in Dubai; cherry tomatoes, arugula and herbs grown in the hotel's own small garden; and silky mozzarella and creamy burrata from an Italian family cheesemaker in nearby Sharjah. "The family has lived in Dubai for 20 years and instead of buffalo they use cows' milk from Oman and Saudi Arabia," the
chef explains.
By the beach, Aquario boasts Instagram-ready views from the glass-walled dining room and the breezy outdoor terrace, along with an elegant bar serving artisanal gins and creative cocktails. There's a live lobster tank and counter displaying fresh seafood caught by local fishermen off the coast and in the Gulf of Oman, as well as the finest international produce including Hokkaido scallops and Atlantic trout, and a "seafood sommelier" to advise guests on the characteristics of the catch of the day.
Homemade sourdough breads are offered alongside eight different types of olive oil, including a delicious oak-smoked oil from Spain, and three kinds of sea salt. Highlights of the menu include a Japanese-inspired ceviche with hamachi (amberjack), avocado and mango; sesame-crusted tuna with poached egg and compressed apple; and the signature sous vide Atlantic trout with pearl barley risotto and butternut cream.
"At lunchtime, the presentation is very casual as people are coming back from the beach and want a relaxed meal. During dinner, we have a semi-fine dining approach to plating, but again keeping it simple," says Khulbe.
"We use delicate herbs like fennel to uplift but not overpower the light flavours and textures of the fish, and add a twist with ingredients like Korean black garlic in a dip served with calamari, which is different but very mild." Meanwhile, Vinesse – a contraction of 'view' and 'finesse' – is a stylish space with an outdoor terrace that is sun-soaked by day and lantern-lit by night. The open kitchen allows guests to witness the chefs' culinary theatrics – the Chef's Table offers a prime view of the action, with tasting menus served on an eclectic mix of fine bone china and handmade glazed ceramics – while the aromas that waft from the Josper oven are irresistible.
In the bar, guests can sip signature cocktails like Le Monk, a blend of cognac, crème de cacao and Bénédictine with cherry wood smoke, and enjoy single malts and cigars.
Again, chef Khulbe and his team dish up a whimsical combination of traditional and molecular cooking. There are deceptively simple Spanish staples like ajo blanco, a chilled almond and garlic soup that dates back to the Moorish middle ages, alongside an elBulli-inspired hot and cold gin fizz. Fork-tender Wagyu short rib, cooked sous vide for 48 hours, is served with a plum salsa and porcini mushroom puree, while locally-inspired dishes include pistachio and fava bean falafel with smoked labneh.
Representing the vanguard of design and gastronomy, The Oberoi Beach Resort, Al Zorah, is set to put Ajman firmly on the map.