Wanderlust
Natural opulence
Home to the perfect confluence of nature and concrete, Al Zorah gives to luxury travellers the getaway of their dreams
The moment you arrive in Al Zorah and take a minute to pause and breathe in the sheer freshness and natural splendour that surrounds you, the lush green landscape greets you like an old friend. The mangroves swaying gently in the breeze that travels across the luxurious Al Zorah Golf Course to reach you, carries whispers of what is to come – a blissful experience far from the madding crowd, brought about by the perfect marriage of natural and manmade.
"
The undisturbed ecosystem of the site is home to a wide range of marine life, migratory birds and plants that are native to the area – all protected by the establishment.
"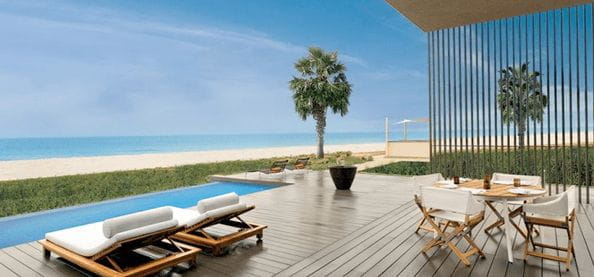 The flagship project of Al Zorah Development Company – a joint venture between the Government of Ajman and Solidere International – Al Zorah is spread across 5.4 million square meter of prime waterfront property. Accommodating world class hotels and resorts, residences, commercial spaces, leisure facilities and the 18-hole championship Al Zorah Golf Course within a meticulously preserved environment of sandy areas and deep green mangroves, the establishment relies on distinct localities, each with a carefully defined urban character. Elements of greenery punctuate the concrete, with exquisite parks, active public spaces, shaded paths and promenades, and an overall environment that is focused on sustainability and cohesion.
Al Zorah also flaunts an unblemished, stunning shoreline dotted with natural wonders. The undisturbed ecosystem of the site is home to a wide range of marine life, migratory birds and plants that are native to the area – all protected by the establishment. A tidal lagoon that extends over 2 sq km of biologically and ecologically rich wetland is among the most beautiful spots in the region and is an absolute must-visit. The mangrove forest surrounding it hosts more than 58 species of birds throughout the year! Pathways through the forest allow residents and guests to explore the rare beauty of Al Zorah with leisurely strolls and tailored discovery programmes.
While several luxury hotels and resorts animate the pristine landscape of Al Zorah, one of the finest among them is The Oberoi Beach Resort, Al Zorah. Occupying a prime location within the luxury establishment, it is inscribed to perfection with The Oberoi Group of Hotels and Resorts' insignia of hospitality and ultimate indulgence.
The first of your senses to feel the impact of The Oberoi Beach Resort, Al Zorah, is vision. Designed to reflect a cutting-edge modern and international aesthetic by noted Italian architect and designer Piero Lissoni, the resort's exteriors contrast the green surroundings with serene whites to create a visual expression of leisure and relaxation. The interiors are similarly crafted to impart a sense of quiet, peaceful luxury. The three-bedroom villas, for instance, are composed of pure, interconnected volumes covered in smooth white stucco and contain a combination of protected terraces and large openings facing the ocean. Their two-bedroom counterparts are formed by deep cantilevering slabs that create a series of shaded internal and external living areas.
Equipped with bespoke facilities such as a private butler, exclusive balconies and terraces, each room, suite and villa offers an extraordinary vacation experience even within its walls. Beyond them, you will find exceptional culinary offerings at Vinesse, the elegant all-day dining restaurant located within a faux glass island. On the menu is international cuisine created by masterchefs in a unique glass show kitchen, and the attached bar serves a vast range of spirits and single malts alongside exquisitely crafted cocktails. If seafood is what you crave in particular, head to Aquario, the restaurant by the beach which serves fresh seafood, sourced from local as well as international waters and cooked using traditional techniques. There is also the poolside restaurant and health bar, where you will find healthy dining options, light tapas and fresh fruit juices to boot! And just when you thought your platter was full of choices, so to speak, La Vinoteca Wine Bar beckons with its tantalising lineup of international wines, expertly blended classic cocktails and fine cuban cigars.
All your gastronomic cravings satiated, make your way next to The Oberoi Spa to experience its private therapy suites and hammam rooms along open-air corridors dotted with trees. There is also an Ayurveda room, a recreation room, a 24-hour gymnasium and a heated infinity pool. Unwind with signature Oberoi treatments, deep cleanse with a Turkish hammam, swim in the pool or destress with yoga or meditation – the spa fulfils your heart's every desire.
Also on offer are bespoke experiences specially curated to suit the destination. From a starlit barbecue dinner prepared by an Oberoi chef to a three-course tasting menu of cuisines from across the world at the chef's table in the main restaurant, and from a gourmet picnic in the gardens of the resort to a golf driving range experience, The Oberoi Beach Resort, Al Zorah makes for the perfect luxury getaway.