Gourmandise
Beginning anew with Omya
As the universe of food undergoes a rapid transformation across the world, The Oberoi, New Delhi's authentic Indian restaurant is unravelling a new culinary narrative
As a chef in the Indian dining space, I feel fortunate to be working in truly exciting times. There are several new players creating niche concepts, zoning in on micro-cuisines and bringing in fresh perspectives. Across the globe, the culinary universe is undergoing a rapid transformation. Today's diners are more curious, more engaged and more interested in the narratives behind what they are served. And this is encouraging chefs to think a lot more about offering them a complete sensory experience, besides future-proofing their cuisine and concepts. This food ecosystem has given rise to several artisan producers, organic farms and businesses with incredible sensibilities.
"Ultimately, whatever we create - however beautiful it may look and however delicious it may be on the palate - in the end, it is all about happiness.
"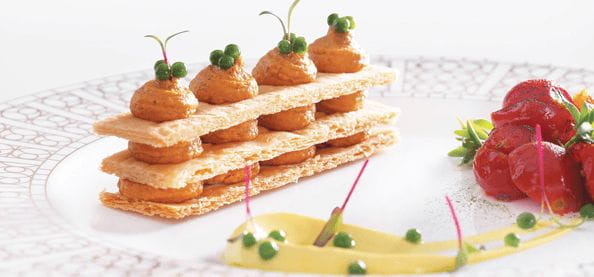 My culinary philosophy is rooted in Indianness and founded on three pillars: heritage, health and happiness. This is the core of my creativity and cooking. I enjoy drawing on ancient wisdom, be it food techniques and traditions or the age-old food science embodied in Ayurveda. I enjoy challenging the mindset that Indian food is greasy and too rich, attempting always to infuse as much goodness as possible to make a dish light and fresh. And, ultimately, whatever we create - however beautiful it may look and however delicious it may be on the palate - in the end, it is all about happiness.
During the years I have spent in London, I have often been asked about a potential presence in India, and it is something that has been on my wish list for quite some time. Collaborating with The Oberoi Group and creating Omya together at The Oberoi, New Delhi has been a dream come true, and has also been a kind of homecoming, for me. Over the many meetings and presentations with the Group's management, I have felt comforted and reassured by a wonderful synergy in our culinary and cultural ethos. I was overjoyed after my first meeting with Mr. P.R.S. Oberoi. His appreciation of my ideologies came to me as a validation like none other.
Omya, the new authentic Indian restaurant at The Oberoi, New Delhi, embodies a distinct narrative of the Indian culinary landscape. It celebrates the many micro-cuisines that have emerged in the Indian subcontinent over the ages and attempts to transport every diner to a gastronomic escapade through delightful Indian flavours with subtle contemporary twists.
I have drawn inspiration from India's magical capital city. During my time as a young hospitality graduate here, I used to make regular visits to Shahjahanabad, a city that has had an incredibly eclectic relationship with food over the centuries. At Omya, our menu taps into its living heritage and offers a culinary experience like no other. From comfort foods to timeless classics, we garnish everything with a sprinkle of fun and a dash of international flair.
Spring is upon us, and as a keen gardener it is my favourite season! I love the breeze of new life blowing through every garden, caressing beautiful cherry blossoms, magnolias and more. And as a chef, the freshness and flavours of spring produce are an absolute joy to work with. I wish you all a happy spring, with many new beginnings, and hope to see you soon at Omya!