Heritage
A tryst with destiny
August 1947: It had been more than a week since freedom had arrived and the country partitioned. But life in Dhe, a sleepy hamlet in district Sialkot went on as usual. To the simple village folk, freedom – or for that matter Partition – meant little. Those were just words they often heard. In fact, the villagers did not even know when the Partition was announced. All they had were rumours. One day, they'd hear they were in Pakistan, the next day they'd be told they were in India. No one really had any idea where the border would be and what it would mean to them.
It wasn't until the villages around them began to burn that Dhe and its residents woke up to the horrors of Independence and Partition. 17-year-old Gurdev Singh Hanjra was one of them.
"
This is primarily a people's museum, so the experiences of those who lived through the event are in the spotlight.
"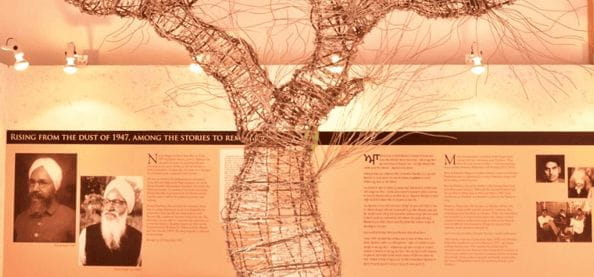 His father had fought for the British during World War II. Now, with the stroke of a pen wielded by a Briton – who had never stepped east of Paris – Hanjra and many like him were about to lose the homeland and security for which he had fought so hard. The farming family was finding it difficult to accept the idea of leaving their land. How could a mere government order sever them from the bond they had nurtured over centuries by generations of toil? But reality struck home when overnight they were forced to pack their bags and leave with whatever little they could gather.
With them on the move was a sea of humanity, towards what Hanjra now realised was India. On the way to what was going to be his new home, he saw the kinds of things that nightmares are made of – brutal rapes, gruesome murders, loot, arson, plunder. The land of the five rivers getting drenched in the blood and cries of its own people. When the family crossed over to the other side, they realised that they had nowhere to go. They could not go back. The only way to find refuge was to occupy a village house abandoned by someone like them. With great anguish, fear, trepidation and hopelessness Hanjra's family swapped one village for another, but not before they waded through rivers of blood.
October 2016: I listened to 87-year-old retired Subedar Major Sardar Gurdev Singh Hanjra with guilt-ridden awe and deep anguish. He had walked into the office of the Partition Museum in Amritsar on the very first day of its opening, armed with memories and memoirs of a dreadful past. He said he had come all the way in a bus from Jalandhar, because at last somebody wanted to know what he and his family had gone through in 1947. Sitting before him early in the morning, I wondered how many like him were left to tell the tale of their homeland divided. Most people who survived the Partition with memories to share are in their 80s and 90s, and since we are fast losing them we need to record these memories before it is too late. The idea of a Partition Museum in Amritsar was born out of this thought – the very need to record the narratives of Hanjra and many like him, who are waiting to be heard.
The museum narrates personal histories of pain and loss through a meticulous collection of oral histories, photographs, documents, paintings and other memorabilia, public and private alike, from all over the world. This is primarily a people's museum, so the experiences of those who lived through the event are in the spotlight. These histories should have been recorded decades ago. But it is still not too late.
Such stories are not rare and yet, even as we record them, we realise that each of them is unique. The Partition was probably the worst blow that Punjab has ever experienced. The wound is so severe that families have not dared to commemorate it in a public domain over the last 70 years. And the wound has never really healed. That is why speaking about it now is not just therapeutic but also extremely important, because time is running out.
We are doing our best to not just record these memories but also to collect the memorabilia that some of the refugees had managed to carry with them across the border. This includes letters, kitchen utensils, phulkari garments and so many more ordinary items of daily use that give an extraordinary emotive expression to what the refugee families went through during that painful time.
Fortunately, the Punjab state government has also understood the importance of preserving this heritage and has designated one wing of the spectacular Town Hall in Amritsar to create the Partition Museum. It is a 30-minute drive from the Wagah border, where thousands gather every day without knowing the stories of the millions who crossed it, often losing their lives and loved ones along the way. The creation of this border has cost more lives than the dropping of the bomb at Hiroshima and yet no war was responsible for the tragedy. Yes, Independence from British rule was a big prize, but it came at a very heavy price.